The simplest way to get a free process manual template is to complete your own using MS Word. This is the easiest and cheapest way to create a manual. However, as your business grows, it will quickly outgrow this format.
You may need to move to some other type of format and there are plenty of options online. However, beware – you could just be wasting a ton of money of some fancy new website that doesn't really give you value for money.
MS Word really does provide a cost effective and fast way to create a process manual that you can roll out to your team instantly.
---
A Place to Create and Find Answers Easily
All you really need is a place for your team to create and review up to date procedures and processes. It isn't really that complex. These days there are way too many choices online about the latest website system that is going to boost productivity.
The truth is – these websites usually waste a lot of time. And they aren't cheap either. Don't bother. All you need to do is create a system that is easy to access, easy to update and easy to use and you will excel in this area for your business.
The key is to keep it simple. Make it easy to update. Make it accessible for all your team and keep the cost down.
This is why starting off with an MS Word Process Manual Template is a great start. After you have built your system up then you can move to another space that has more functionality.
A process manual is a document that is given to your team so they can understand all the aspects of the processes of any particular task. Let's take a closer look and also let's investigate further where we can find some free process manual template that you could use for your business.
---
What is a Process Template Used for?
A process manual or guideline explains step by step instructions on a process. It's nothing too complicated, however the process can be complex depending on what you are creating.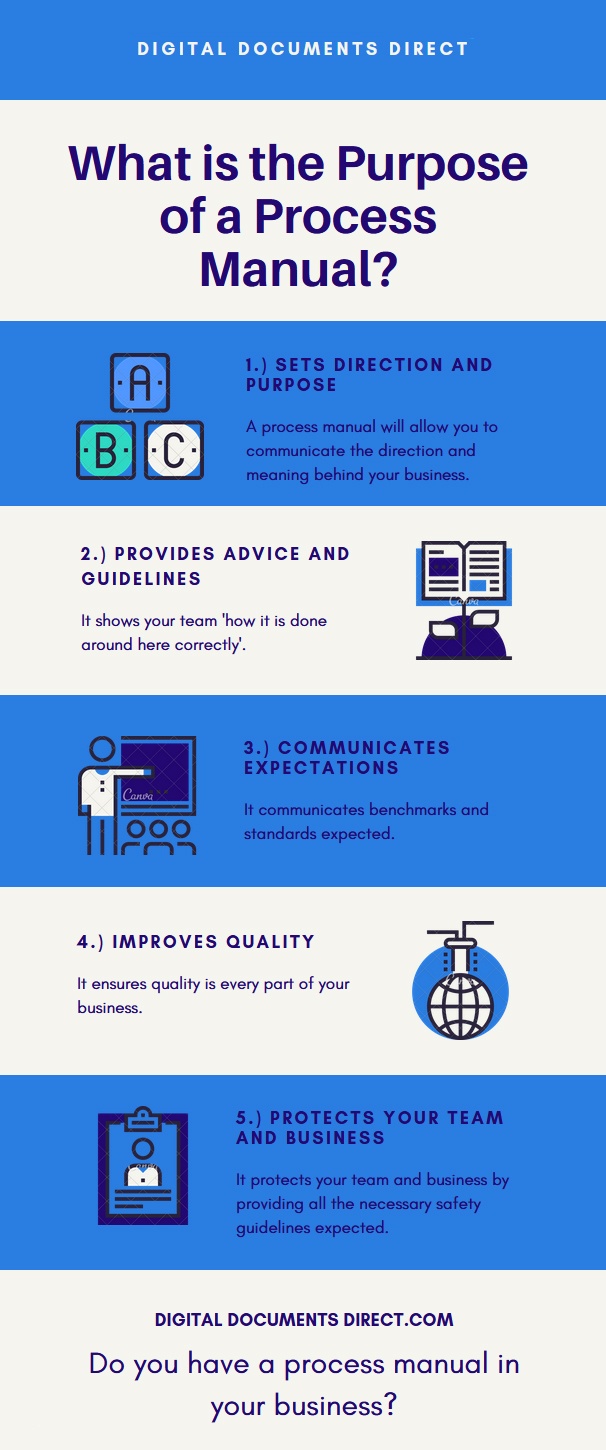 If you have a small business, it is highly recommended that you create this type of process manual with your team. Get them involved in the task of building your manual as soon as you can. Ask for their input. Ask them to review the steps and ask them to help you create it.
After-all, if you involve them in the process then they are more likely to take ownership and actually use the system. There is no point having a huge procedure and process manual if no-one uses it.
---
What Should be in a Process Manual?
Let's say you own a small business coffee shop. What should be in the process manual for this type of business?
Well it really depends on how you operate your business, however it is a good idea to include all procedures, policies and processes you and your team perform everyday.
Let's take a look at an example of how to clean the coffee machine below. This example has detailed step by step processes to get the task done easily and efficiently.
If you are employing people on a regular basis – the last thing you want to be doing as a business owner is repeating yourself over and over and over again. Yes, you will need to repeat yourself a lot – however the best thing you can do is document your processes so you can reduce the amount of repeating you need to do.
---
3 Places to Find a Free Process Manual Template
If you need a free process manual then consider these 3 options below.
Free Option Number 1
Download this Free Process Manual Template
We are keen to help small business owners as much as we can. We understand that having a small business is a lot of work. Therefore, we have provided a basic Process Manual Template you can download and start getting your system underway. OK, this is a pretty basic manual, and consider using our fully detailed manual if you can.
Download the Free Process Manual Template
Purchase a Process Manual Template. Click the link below to read more.
A process manual template will save you a ton of time creating your processes in your small business. It really is a useful tool if you want to get your systems up and running quickly and efficiently.
Free Option Number 2
Smart Sheet.com
Smart Sheet has a few free options for you. Check out their free options as well.
Free Option Number 3
SAMPLE TEMPLATES.com
Sample Templates has a few free options also. Check out their website if you are looking for a free process manual template.
Whatever you do, consider the amount of effort you will need to put into a free process manual. It will be significant.
It is likely to be easier to purchase a pre-made manual and start from there.
---
Your Thoughts?
Leave a comment below if you have any thoughts regarding process manuals in your business.