---
Firstly, what is a Safety Management Plan? Let's explore the different types of safety management plans and then look at the options available online for finding a Free Safety Management Plan Template.
---
Table of Contents
---
Safety Management Plan
A Safety Management Plan has many different names. Just type the phrase into Google and check out all the different names that pop up.
For example:
safety management plan
whs management plan
workplace health and safety management plan
health and safety management plan
health and safety management system
The list goes on and on.
However – they are typically all the same thing. So in this article we look at what is in a Safety Management Plan and where you can possibly get hold of a free Safety Management Plan.
That would be nice wouldn't it?
However – remember, you typically only get what you pay for so you might be able to find a very basic template that would require you to do all of the work anyway.
So let's get started…
---
Let's Take a Look with a Simple Google Search
So if we do a search on Google, there are a lot of results surrounding this topic. Take a look for example at a simple Google search in the United States.
In fact, there are 156 million results in Google!
Wow – that is a lot! How can you possibly find what you need in so many results?
So taking a look at the results above, there are plenty of images related to this topic.
There are quite a lot of pdfs in the Google results as well as some opportunities to create site-specific Safety Management Plans. Scrolling down there are a couple of shops and then also some WHS Construction Safety Plan Generic Samples as well as a few Ads.
So – plenty to look at. However, if you have already had a look through the results – have you found a good quality free Safety Management Plan Template?
Also – have you tried a few other types of searches? For example, check out the images search in Google. Plenty of options there as well.
It is likely to be hard to find a good quality free Safety Management Plan Template.
Let's take a closer look below and see what we have found. But firstly, lets discuss exactly what this type of document is and what is typically in it so you then know what you are looking for.
---
Specifically, what is in a Safety Management Plan?
A Safety Management Plan is a document that is created specifically for a construction site.
It is all about controlling risk on the site and outlines in written and graphical detail how these risks will be managed
Once complete, the plan should be made available to everyone involved in the project and should be easy to access. It needs to be reviewed on a regular basis to ensure it is up to date and modified as the site changes.
It will include everything from important contacts and supervisors right through to management of hazards and dangerous tasks.
A good quality safety management plan has quite a lot of detail in it. It will also be easy to read and interpret as it needs to be read by many people of varying educational backgrounds.
Let's look deep into the detail.
---
Size of Project = Size of Safety Plan
Depending how big and complex the project is will determine the size and complexity of the Safety Management Plan. For example, if you are building a few town-homes, this will be a relatively smaller and less complex project than building a 80 storey skyscraper in the city.
Complexity depends on project type
However, your project might be small but have a high degree of risk. So therefore it really makes a difference to what is in the safety plan depending on the type of project it is for.
---
Simple Details
So starting out with the basics, it makes sense to include any items that provide information for the reader.
This typically can include things like;
the address of the project
the contact details of supervisors and safety officers
management names and responsibilities
positions of management.
Remember, these are only the basic details with further details to be included further into the report.
---
More Descriptive Details
As we move into the detail of the plan, it is important to also include further details that are more site specific. These more project specific elements may include;
a project description
responsibilities of particular personnel
consultation, induction and training
identification of hazards including assessment and control risks
managing subcontractors
managing incidents
monitoring and review of the plan.
---
Even More Details
It pays to enter plenty of details into your Safety Management Plan. This document should be comprehensive. It should also be tailored to suit the reader.
Will anyone actually read your document?
Chances are people will try and avoid it. However, it is important it is implemented onsite. These types of documents are critical for site safety – so it makes sense that management ensure everyone has read and understood the document.
This could be done in a number of ways. We will take a look at the detail a bit further down below.
But for now – let's take a look at what free templates we found online.
---
Free Safety Management Plan Templates
So let's have a look at some of the free options available online and see if they are any good.
Option 1 – Comcare
This particular website is a Australian Government website that has a downloadable PDF on it.
You can download the pdf and fill out the fields if you have the appropriate Adobe Acrobat software.
Not much good if you just have MS Word though.
Option 2 – Sample Templates
Sample Templates have a range of sample templates including a number of Editable Safety Plan Templates.
Check them out on their website which looks like the image below.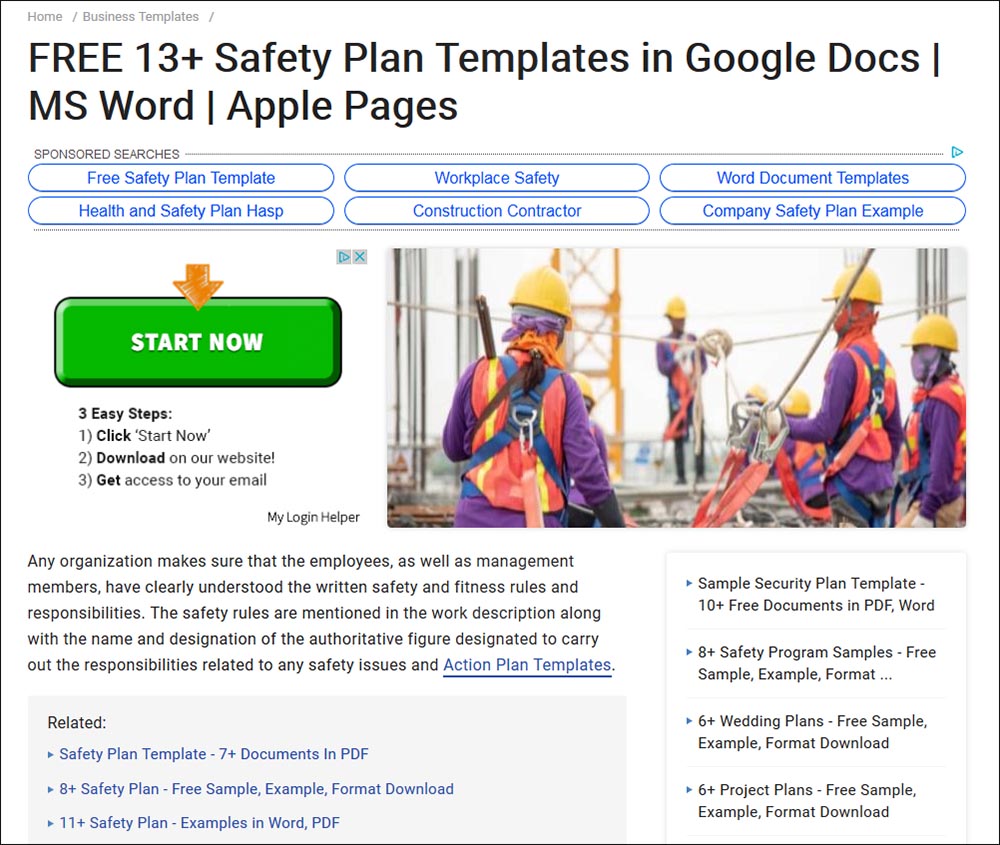 The links refer you back to Template.net and this has a number of templates that you can purchase.
It looks something like this below.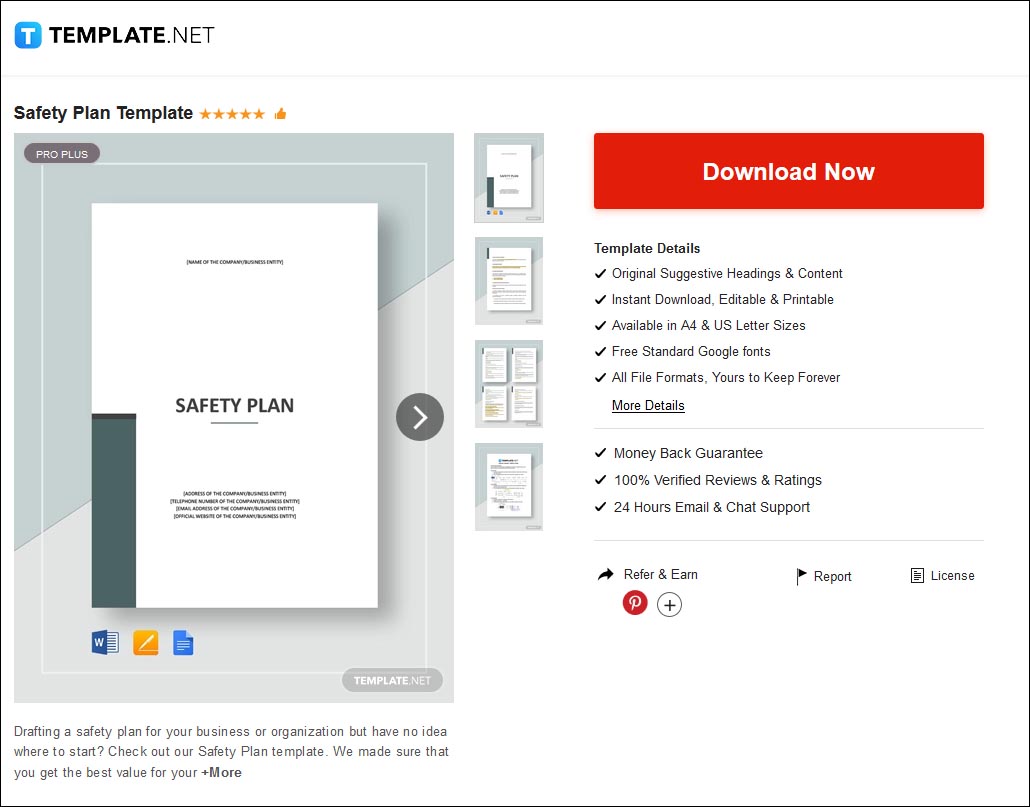 However – most of these are not free as you have to pay $29 per month to access the templates.
Option 3 – Graphic Products
Graphic Products have plenty of information on their website regarding Safety Management Plans. There is information regarding What a OSHA Safety Plan is as well as plenty of information about Management Leadership and Employee Involvement.
However, it looks as there is only a few links to download a free guide.
No doubt this will be helpful when creating your Safety Management Plan. Check out the website view below.
Option 4 – Tenderfield
Tender Field also has a free construction management safety plan template you should check out. Their website looks like this below.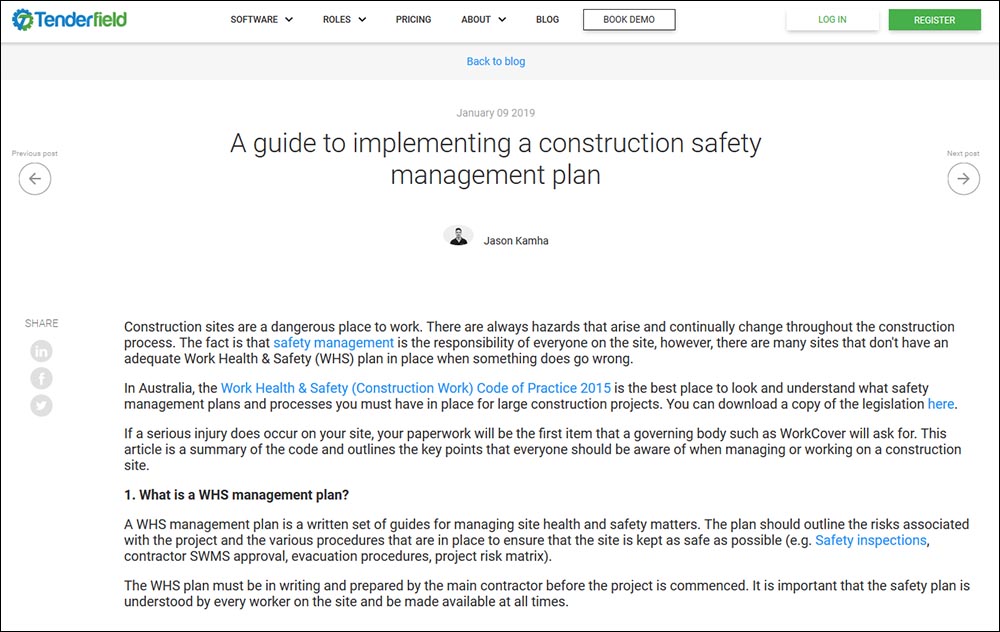 Click through the links and you will see an option to signup to download a template. It looks like the following below.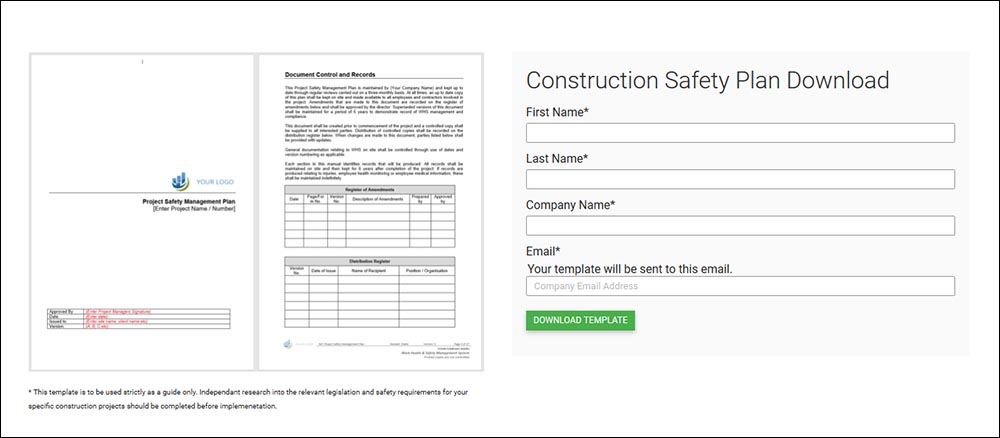 Option 5 – Safety Culture
Safety Culture is online form creation which is handy. This is a bit more serious now and gives you options to complete plans by filling out fields.
You can also download checklists but need to sign up first. Something that a lot of website require. So check out their website below or at the link above.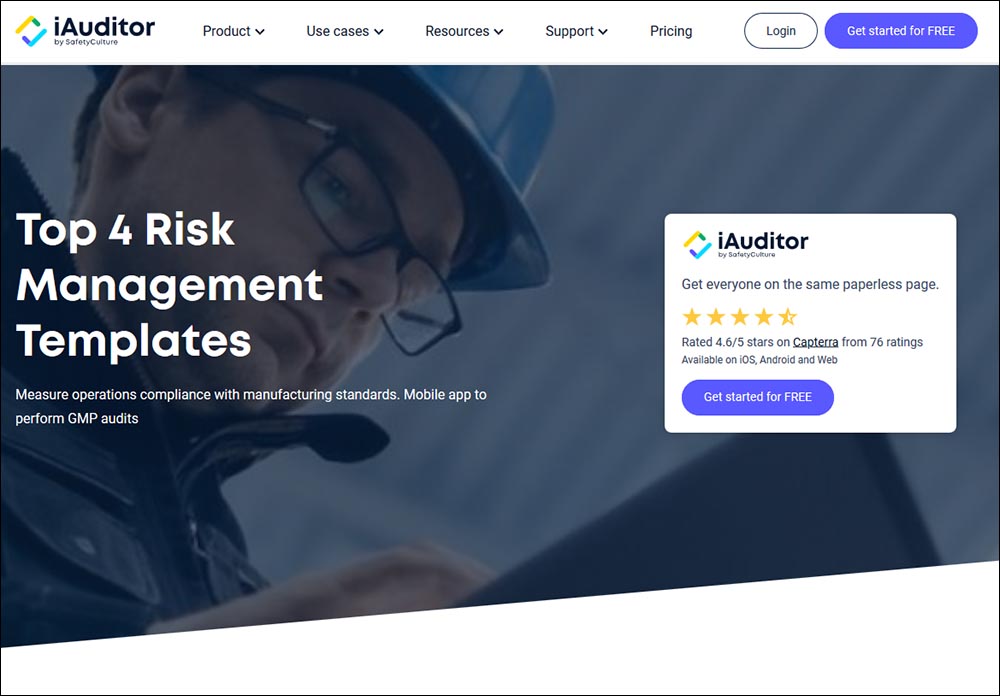 ---
More Important Detail
OK, so now we have had a look at the free templates available, let's talk a bit further about the detail you may need in your plan.
You could have things like an Aim and Policy which is a great start to your documents.
Further to this you should have definitions included which highlight the meaning of words used in your plan.
It is also good to talk about accountabilities and disciplinary action. Don't forget to include the name and address of the Principal Contractor as well as the Principal Contractor's Business Number.
Then you should also include Workplace Health and Safety Committee details, WHSO (Workplace Health and Safety Officer) appointed details.
Then you can move into SPECIFIC SITE ACTIVITIES. This includes detailed items such as:
Electrical
Explosive Power Tools
Hazardous Substances
Inspection of Plant and Equipment
Then a section regarding ACCIDENTS.
Then a section regarding AUDITING.
If you include all of these things then you are certainly on the way to providing a good quality detailed Safety Management Plan.
---
Download a Free Safety Management Plan Template
Thanks for reading down this far. We have a Free Safety Management Plan Template you can download.
OK, so after all the text above and all the talking, we would love for you to download our free safety plan template. It's not our full version, however it is a good version if you want something for free to get your safety plan up and running.
If however, you want to save a lot of time then consider purchasing our full version Safety Management Plan Template as it will save you a ton of time.
So, check it out below in an easy MS Word format for you to download – 100% free with no signups or anything. Just a gift from us for coming to our website and reading this far down….so here it is.
Free Safety Management Plan Template
---
Safety Management Plan Template – A Useful Tool for Construction
For builders or projects that do not have a safety management plan, they can easily start developing one immediately with the help of a template.
Such templates are very helpful especially for companies engaged in businesses that require safety management. These could be construction firms, contractors, transportation and logistics, freight, as well as manufacturing firms and similar.
---
The More Complex the More Important
It is imperative for complex businesses to have safety management plans due to the complexity of their day-to-day operations. The nature of their businesses is also usually quite unpredictable, hazardous and some times volatile.
For example, companies engaged in mining or petroleum drilling deal with large and difficult to handle equipment on a daily basis. It is very important for the employees and workers to be equipped with the right knowledge and set of skills to react immediately in cases of accidents or adverse situations.
A safety management plan template is a great tool for companies to start on their own safety management plan. While the specific requirements and circumstances of each company would vary, there are some basic concepts of safety management that would usually apply to businesses across different industries or fields.
---
Examples of Safety Plan Content
Here are some examples of rules that are usually covered by a plan including:
All adverse incidents or accidents should be reported to management or to an employee's immediate supervisor.
All workers must wear the standard or prescribed personal protective equipment (PPE) such as hard hats, overalls, safety shoes, etc.
Workplaces must be kept clean and efficient.
Proper conduct and professional decorum must be observed by all workers at all times. No disruptive activity is allowed.
Possession and/or consumption of alcohol and/or illegal substances are strictly prohibited in the workplace.
Those who are unfit for work or whose abilities to perform work accurately and efficiently may not be permitted to enter the workplace.
All equipment used should be returned to their proper storage after use.
Safe Work Method Statements.
These are just some of the usual rules and guidelines contained in a safety plan. They would vary from company to company, depending on the industry or field the business is engaged in, but the basic principles of safety, sanitation and efficiency are included in any safety management plan template.
Simple things such as Safe Work Method Statement's are typically included in Safety Management Plans.
If you require a Safety Plan then consider purchasing our safety plan template.
---
What About You?
Got any comments about what is best for a Safety Management Plan or anywhere you know of that provides a free template?
Please add below and start the conversation.