Standard Operating Procedures make a dramatic difference to the performance of your business, company, organization or club. SOP's as they are commonly know are instruction manuals for team members that are learning or even experienced team members that need reminding of how to perform tasks accurately.
If you are looking for a free Template for Standard Operating Procedure then keep on reading as we look into your options and also provide a free sop for download. OK, this is a basic SOP but it will at least get you underway in creating your SOP'S. So let's get into it.
By the way – we won't be 'diving into it' because diving is something you do at the pool after you have checked there is nothing in the way and you know it is deep enough…
---
Template for Standard Operating Procedure
So, we are assuming here you already know what a standard operating procedure is. Really, it is a step by step instruction to complete something. A set of steps that is used repetitively to ensure a task is completed accurately.
You definitely want people to be using these step by step tasks. For example, think of a pilot landing a plane and you are sitting in the back. You would be hoping the pilot is following the step by step standard operating procedure to get that rubber onto the tarmac without bending anything.
So, you can imagine it is a list of items that need to be included including making sure the landing gear is down prior to touchdown. You can imagine the noise if that step is missed. (All the screaming).
Check out a simple step by step procedure below. This is a really simple one created in MS Word. You can smash these out in a matter of minutes if you use our templates.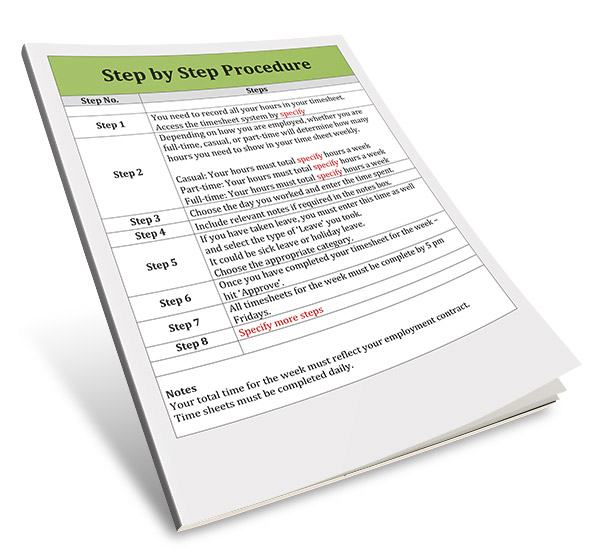 Creating Your Standard Operating Procedure
So, the easiest way to create a Standard Operating Procedure is to use MS Word. Simple to do and easy to set up and virtually free. No doubt if your business becomes complex then you will need something better to grasp all that information. Otherwise you will be wading in documents.
Really it isn't anything more than a checklist is it? Start here and finish there and make sure you do all steps in between. (Landing gear is important).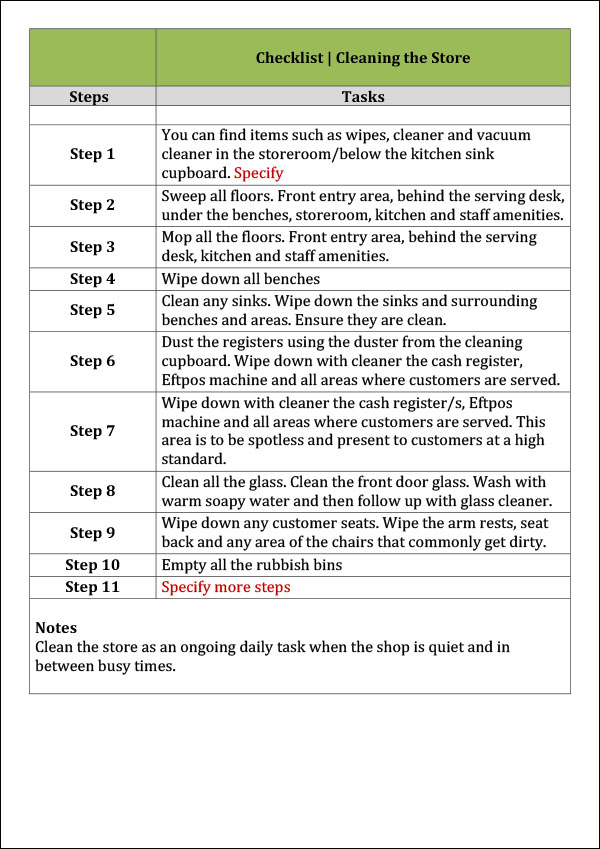 ---
Download Your Free Template
OK in this spot you can download your free MS Word template and get things going. It's basic but will help you get underway fast.
Remember, you may come across a massively complicated and technical way to create SOP's online by reading other websites. However, is that really how it should be? SOP's should be EASY TO USE, EASY TO CREATE and ACCURATE.
Anything else is just a nightmare for anyone but the person who created them.
Check out our Standard Operating Procedure Manual Template.
Download a Free Template for Standard Operating Procedure Here
---
---
How Can You Improve Your Business Fast for Not Much?
If you have a small business, you will already know as business owner it is a lot of work. There are some very important things you should put in place as fast as you can.
You probably don't need that business coach. They can be expensive and most of the time haven't even owned a business. How can you accept advice from someone that hasn't done it before? I would take their advice with a grain of salt.
Not saying they wouldn't have some good things amongst the other stuff, but if a business coach has never owned a business, then chances are they are winging it and relying on your cash coming in.
Here are a few things you should be doing as small business owner for success.
Never take any Customer for Granted
Customers provide your income. If you take them for granted, one day you will regret it. It could be when the economy tanks or something else happens. If you have a paying customer regardless of the size of their business – treat them well. It will pay off in the long term and I suspect you are in this for the long-term, not just a fast buck.
Treat your Staff Really Well
If you are not a people person, you might find it hard to treat your staff with the respect they deserve. If so, take the time to sort this out yourself. Talk with someone about it or do whatever it takes. Treat your team with respect and ensure you do everything you can to help them. It will pay off for you in the long term.
Document Your Processes Fast
As soon as you can, start writing down every single task in your business. It doesn't matter if you are a coffee shop of an engineering firm. Doing this will start to free you up from the everyday tasks that need to be completed by your team. If you haven't started yet – you are already behind. Get into it and use a template today.
Use Checklists
Create checklists and make sure you ask your team to use them. Quality is everything in business. You need to deliver to every single customer to a high as standard as possible. You and your team will make mistakes. However, you are aiming to get the mistakes low and the service and quality high. Checklists help to do this fast.
Create a System ASAP
Use the above items to create your system ASAP. You need to do this quickly, accurately and efficiently. A logical system will ensure your business output is performed to a higher standard, mistakes are reduced, safety is paramount and team morale and culture is kept to acceptable standards.
Focus on your EXISTING customers
Forget trying to be a world conquering business. It is unlikely to happen. Thinking your business is going to be a massive corporate when you are just a small business can make you forget about your existing customers. You keep chasing new customers and forget that your existing customers are the most important.
Your existing customers are more important than trying to get new customers. Keep existing customers extremely happy and you won't need to keep finding new customers. Remember, you are a small business, not a global corporate behemoth.
Deliver over and above what you say you will and you will keep your customers happy and they will return. Focus on quality, efficiency and training your team.
Enjoy What you Do
If you don't – it shows. Grumpy, disappointed, angry or frustrated? All these emotions flow onto your team and customers. Check them at the door the moment you walk in and put them aside.
If you aren't enjoying it, take some time off. Do something else or work for someone else until you can face it again with a positive attitude. This makes all the difference for any small business.
Charge the Right Price
Nothing will kill your small business faster than competing on price. Just refuse to do it. If you get really desperate, then focus on what makes you different. Let your competitors scrape the bottom of the barrel if they want to – but don't participate. If you don't make a profit after taking home a decent salary – then why are you doing it? The joy will run out eventually and then you will be broke, stressed and grumpy.
What Makes Your Business Unique?
For most small businesses, the only thing that makes your business unique is:
YOU !
That means you should use 'you' to make a difference in your business. Usually, your personality and who you are is the difference between you and your competitors – so you better focus on 'you', fix 'you' if you need to, make 'you' better and identify the part of 'you' that is different.
---
Standard Operating Procedures a Waste of Time?
Do you have SOP's or Standard Operating Procedures and no one in your team use them? Do they even know where they are?
If you operate a small business, you the business owner needs to get behind the SOP's and embrace them. Sound like fun?
A great way to do this is get your team to create them with you. Have a small session and brainstorm the best way to create instructions and step by step procedures.
Then get your team to help you add the detail in quiet times or moments where you are not working flat out. This will make a big difference.
A massive benefit is that if one of your team members leaves, they won't take everything in their head with them because you will have documented it right?
Let's face it. People will come and go, and what you must have as business operator is a place that shows others how to complete their role. A system manual.
---
Comments?
Got any of your own tips? What advice do you have for others when creating Standard Operating Procedures?
Feel free to share below. It would be good to hear your best advice.