A Procedure Manual Template will allow you to create your Procedure Manual quickly and efficiently, saving you time and money. Procedure Manuals make a huge difference to the performance of your business.
By using a Procedure Manual Template and creating and using a Procedure Manual, your team will excel in all they do. For minimal outlay, this type of system document will assist you deliver your product or services to your customers and get them coming back for more.
---
Table of Contents
---
Why You Should Use a Procedure Manual Template
The Benefits of Using a Template
A Procedure Manual Template will save you a ton of time when creating your Procedure Manual. These manuals are typically comprehensive and can a lot of time to create. Using a template will not only save you time, it will help by providing a framework to get started and likely in the end save you a lot of money.
---
How to Improve Your Business Overnight
You will see a dramatic improvement if you roll out a procedure manual to your team. In fact, it should almost be instantaneous. Even if your procedure manual is basic, it will still provide you the opportunity to delegate better to your team through detailed procedures and instructions.
Using a procedure manual template will be the least amount of effort to get the quickest effect and value for money. You team need direction and a procedure manual does this.
You can download your Free Procedure Manual Template by clicking the link, or click the image below for a paid version.
Your team need detailed instructions to follow to perform their role correctly. Think of the instructions you receive when you buy that flat pack furniture. It's no different.
If you received no instructions with the flat pack furniture, how would you possibly be able to assemble it correctly? You might be able to guess 50% of it correctly but chances are it isn't going to turn out too well.
Your team need detailed instructions in a similar manner. If you are trying to operate a business without this tool you are in for one major headache. In fact, you are likely to get nowhere fast because your team all have different ideas on how something should be completed. A recipe for disaster!
An Extremely Effective Business Tool
This type of document is extremely effective in improving the performance of any business regardless of the type. A good quality Procedure Manual points the business in one clear direction and persuades all team members to follow.
The best procedure manuals have one process only for each task required in the business. You can't have five different places for the same task if you are trying to meet consistency targets.
It simply won't work. You must have one instruction for the one task only.
The easiest and fastest way to create a procedure manual is to use a procedure manual template.
Finding a free template online is easy, but finding the right one is hard work. Check out our research about all the free procedure manual templates we could find below.
---
Business Failure
Avoid It
The last thing some business owners consider is business failure! They are so keen to make it work that they forget to consider why it possibly might fail.
Businesses fail for many reasons. However, one massive reason why a business fails is because the business owner fails to systematize their business.
They then become tired when they try to wear 'too many hats'. Burnout is just around the corner. A Procedure Manual helps to delegate responsibility to your team while maintaining quality. This is crucial to ensure your customers or clients receive what they are expecting.
Systematizing Your Business Brings Huge Benefits
Systematizing a business brings massive benefits. One of these benefits is fighting off failure. This is done by delivering consistently through your system. Customers return when their expectations are continuously met for the price they pay.
Returning Customers are the Key To Success
Returning customers are the backbone of any successful business.
Read that one again: Returning customers are the backbone of any successful business.
You can spend a ton of money on marketing to keep getting new customers, however if you take the effort to keep and nurture your existing customers, you will find it is much easier to operate your business efficiently.
Delivering in a consistent manner is the only way to ensure repeat customers. Customers love consistency, and ensuring your team deliver your products and services in the same manner each time is done by using tools such as Procedure Manuals.
In this article, we are going to look at the 'ins' and 'outs' of a procedure manual template. We will also look in detail about the options online for finding free templates that can get your Quality Manual System underway quickly, efficiently, as painless as possible all without wearing down your fingers on your keyboard!
---
How many Companies and Organizations have Procedure Manuals?
Procedure Manuals Build Business
Any successful business usually has an extensive system. These systems run the business and ensure it is ticking over daily – in a manner that makes money.
Just do a search online for some of the larger organizations and you will see there are extensive Procedure Manuals online to refer to.
A Large Amount of Work
Building a system to run your business is a massive amount of work. However, you need this to get your business to run efficiently without you being there otherwise you don't really have a business – you have a job.
A lot of larger Corporations and medium scale businesses are certified for ISO 9000. What's that? Read on below.
---
What is ISO 9000?
The International Organization for Standardization creates and publishes ISO 9000. Wikipedia defines ISO 9000 as a quality assurance family of systems.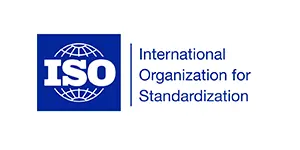 "The ISO 9000 family of quality management systems (QMS) standards is designed to help organizations ensure that they meet the needs of customers"

https://en.wikipedia.org/wiki/ISO_9000
Created in 1987, the International Organization for Standardization published the ISO 9000 standards which were based on publications of government procurement standards that go way back to 1979. Remember then? Neither do I….
If you wanted to win government contracts, it was required for your organization to achieve standards and this still applies today in many countries.
If you want to win government contracts for your business, then you need to look further into ISO 9000 and get your business ready for certification to meet these requirements.
However – if you are just starting out or trying to grow your business, don't worry too much about ISO 9000. You can plan for it later. It will overwhelm you and cost you about 10 to 15 K….A decent chunk of cash.
How Does ISO 9000 Relate to Free Procedure Manuals?
If you are a small business, then meeting ISO 9000 requirements is likely not something you can investigate in the short to medium term. You really should just focus on getting your current procedures and policies sorted out to operate your business first and then down the track you can consider the requirements to meet the International Standards as your business grows.
When building your business, you will be documenting your QMS or Quality Manual System. Having some basic understanding of terminology will help you when you build your system.
There is a lot to learn, however if you are a small to medium business, the best thing you can do is keep things simple to start with.
Think about the team you have and explaining how to perform a task to them on paper. This shouldn't be too difficult; in fact it should be relatively easy to break the processes into small tasks. The biggest hurdle is time. It takes a massive amount of effort to document your procedures and processes.
A great way to speed it up is to ask your team to help you develop policies and procedures. It couldn't be better. They will then be part of building the business and it will also keep them very busy.
What is available online to help you get started?
---
Types of Procedure Manual Templates Online
There are a lot of different types of procedure manual templates available online.
Some of them are quite expensive, some of them are cheap and some of them are even free.
Google Results for Procedure Manual Templates
We have looked at several websites that are ranking best in Google. Check out the top results below. This may vary depending on your location.
You can see there are 56 million results. That is a huge amount…..it will take a while to get through them all.
Process St, Sample Templates.com and Template.net are dominating the top results at time of writing this post. These results do provide some free options for you, so it is worthwhile checking out their sites.
The types of procedure manuals available online vary widely. There are dramatic differences between simple procedure manuals and manuals that are complex.
If you look at some of the procedure manuals online, the complex templates can be very difficult to use. Sometimes it is often better to keep it simple.
Where To Find Good Procedure Manuals Online
A simple Google search will identify a range of options for free procedure manuals and templates that you can modify to suit your business.
Unfortunately, there are not many comprehensive options out there.
The other notable aspect is there is way too much information online and it is easy to become overwhelmed very quickly. So, revert back to basics and start a simple MS Word procedure manual as you will be able to get this up and running relatively quickly.
We have reviewed several free procedure manuals template online. Check them out below.
---
Difference Between a Policy Manual and a Procedure Manual?
Well, we have been talking a lot about procedure manuals. However, let's take it one step further and talk also about Policy Manuals.
These are two different things but have similar aims – to educate, teach and show your team what your expectations of a business owner are without you being there.
Simple EH?
Should You Have Policy Manuals and Procedures Manuals In Your Business?
Short answer is – YES!
Policies and Procedures are different things. You can see from the graphic below as a simple business procedure example of the difference between a procedure and a policy.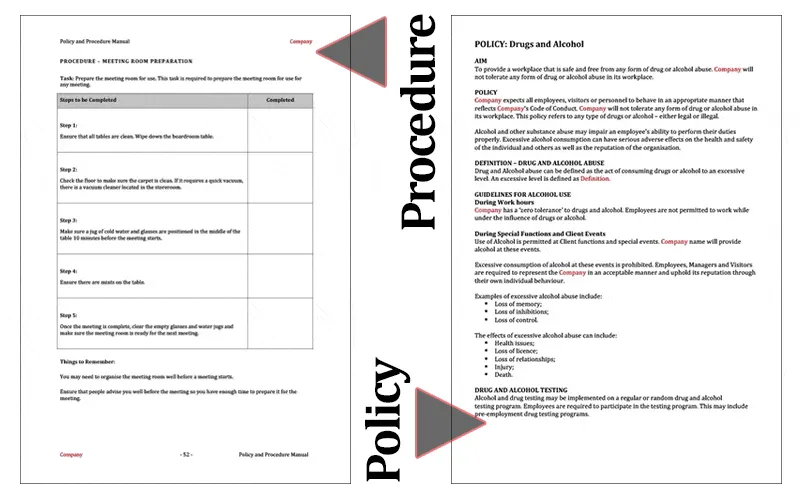 Policies
Policies are usually descriptive and full of text. They outline the 'rules' and expectations.
Procedures
Procedures are usually step by step examples of how to complete a task. Part of a process.
---
Is a Free Procedure Manual Really Worth it?
OK, after all this gibbering on about business procedure manuals and policy manuals, systems and processes and all that stuff it is about time for a lie down and a cuppa tea….
However, let's keep going and talk a bit more about the benefits of getting a free procedure manual in your business quick smart.
Are These Free Procedure Manuals Any Good?
Yes – some of them are ok. They have a decent amount of information to get you going. However, you can wade through a ton of information before you find relevant information.
Free or Paid? One Good Reason
If you pay for a manual you are likely to get a ton of content.
Some of it will be relevant and some of it won't. However, it will certainly save you a massive amount of time. Just getting the content together takes years of work.
However – you need to ensure the content you are receiving is worthwhile – and that is the hard bit.
Paid manuals usually come with a massive amount of information that you can tweak to suit your business – but sometimes just the tweaking is going to take a lot of time.
Free Usually Means a Lot of Effort
If you're looking for a free procedure manual you probably gonna have to put a lot of it together yourself…
Which is fine it you have plenty of time.
However, the last thing you need to do is waste a lot of time building a procedure manual because you got it for free. It's all about time. How much time do you have? And what quality level do you need?
Talking about quality and systems, The E-Myth Revisited is a book you should read.
---
Michael E. Gerber and a System Based Business
Michael E. Gerber is an American author that is all over the procedure and policy system-based business set up. If you haven't read any of his books, then you better get cracking.
The E Myth Revisited
This is one of his first books he created and is a revised version. It certainly has many ideas about how to structure your business to help you stay in the entrepreneur mindset and away from the Manager mindset.
Establishing procedures and guidelines for your team to follow are just one of the things he mentions in his books. Also take a look at another of his books E Myth Mastery for more complex business ideas.
They are a great read and outline the importance of creating a system-based business. In summary, there is tons of information within his books about how to develop your business with systems in mind.
EMyth Mastery
Following on from the E Myth is Emyth Mastery. Certainly another good book to read if you are a small business owner. This book outlines 7 essential areas to focus on if you want to grow your business.
Worthwhile getting your teeth into if you haven't heard of his organization.
---
Quality System for Your Whole Business
So, once you have started to get your head around the differences of a procedure manual and a policy manual, it is time to now think about each department of your business and apply this knowledge to each area.
You need to line up all areas of your business, so they are all operating from a systems based manual.
This is a massive undertaking if you are starting from scratch.
Apply to all Areas of Your Business
You will need to apply both a Procedure Manual and a Policy Manual to all areas of your business. This could include the following areas:
Human Resources (HR)
Accounting and Finance
Marketing and Advertising
Production
Information Technology
Operations
Customer Service
Purchasing
Legal Department
WHOA! That is a lot of work. Yeah – either do it or out-source to other companies. You don't really have a choice.
---
Detailed Procedure and Policy Examples
A Simple Procedure Example
Think about your business and all the tasks that happen daily. If you have simple tasks, you want your team to know that they need to perform them accurately.
Just because the task is simple doesn't mean it shouldn't be completed with a high degree of accuracy.
Check out a simple procedure below as an example. This is a relatively simple task of preparing a meeting room for use.
If your junior administration team need to know how to complete this task, it is listed out step by step. Check it out below.
You can see the format is simple, the steps are simple and the images help to assist in understanding the relative task required.
A Simple Policy Example
So if you are building your quality system you also should include Policies. These documents help to communicate the standards to your team.
Your team need to know where they stand when it comes to how they behave in your business. If they can't follow your standards or don't want to follow your standards, then there is a high chance they should likely look elsewhere for a job.
Communicating these policies will ensure your team know exactly what is appropriate for many different areas of behavior.
Check out this simple example below.
Communicating these standards to your team is a relatively simple exercise and certainly worth the effort. Use templates to save yourself and massive amount of time.
---
What Format Will You Use?
Depending on where you are in the creation of your quality manual will determine what format you will use.
Obviously you can use a simple format like MS Word and create a manual quickly and cheaply. However over time you will find that this may not be suitable enough. Below we take a look at what might be an option for you.
Using MS Word – Is it Good Enough?
If you are building your Quality System, then the simplest and fastest way to kick things off is to use MS Word. You might be trying to speed it up by looking for a free Microsoft word policy and procedure manual template.
Most of the templates given away for free online are just that – MS Word documents stripped back with minimal content.
MS Word is going to help you get things going fast, however you will quickly realize you need something else to build your quality manual as it grows quickly.
Regardless of where you end up in the future, starting with a free standard operating procedure template in Microsoft word is going to kick things off for you really quick and enable you to start getting the content together efficiently and in one place which then can be transferred to another platform at a later date if needed.
---
Conclusion
So taking a look at all the things we have discussed.
Free Procedure Manuals are going to be just that – Free. However, it is highly likely you will be working hard to create a suitable manual for your business if you get it for free.

Systemizing your business is extremely important. You risk failure if you don't set standards for all aspects of your business.

There are massive opportunities online to get hold of information to start your procedure manual. The problem is – there is too much information.

Procedure manuals and policy manuals are 2 different things. You need both. (Operations Manual is the big name for the whole thing).

A procedure manual is just a part of it. Once your business progresses and grows – you will then want to start getting formal certification in something like ISO 9000. All the best with that!

Build your business on quality only and forget everything else. Quality comes through building an expert Quality Manual System and implementing it.

Detail is required for any procedure manual. You need to drill down to ensure your team know all the detail.
Remember – Are you Building a Business or a Job? Building an accurate, quality Operations Manual will add true value to your business. That is what you are aiming for.
---
Frequently Asked Questions
What is a Procedure Manual Template?
A procedure manual template is a document used on a repetitive process to create procedures.
What is in a Procedure Manual Template?
A good procedure manual template will be comprehensive and have a wide variety of polices, procedures and guidelines in it allowing you to pick and choose information relevant to your business.
Will a Procedure Manual Template save time?
A Procedure Manual Template will save you significant time creating your procedure manual. These documents are comprehensive and take a long time to create.
How do I create a Procedure Manual Template in Word?
You could create you own template in MS Word and reuse it again and again. Simply use the template feature in MS Word and save in a safe place.
---
Speak Your Mind
So, what other things should you be including in your Procedure Manual?
Leave a comment below with some of the ideas that you have added to your procedure manual.