Operations Manuals can take a long time to develop. They include every aspect of your organization. This is a massive undertaking. If you are searching for an Operations Manual Template that suits your business, then it could be a very difficult thing to achieve.
Chances are a Free Operations Manual Template isn't really going to deliver. It might be a good way to start your operations manual though.
Operations Manual Master Template
+
Free Bonus
50 Additional Templates
Businesses can be complex and although the principles are relatively similar, not many businesses are an exact match.
However, if you are serious about developing your business in a manner that provides a positive, healthy return for you the owner, your team and your suppliers, then no doubt you will understand the importance of constantly improving the operations of your business to ensure it meets your goals.
---
Why is an Operations Manual Important?
Creating and using a small business operations manual template will be one of the most important things you can do for your business. Don't get distracted by digital marketing, glossy brochures, performance 'gurus' or the latest software.
These things might be important, however they are no where near as important as developing your business in a systemic way so that when it operates, it runs like clockwork. You don't need a performance coach to tell you this. You just need to get on and do it.
'Operations' or the 'Operations Manual' is the system that achieves this. Creating and developing this important aspect of your business will determine the direction of your organization, improve the way your team work together, improve moral, improve profit and importantly provide for your family, your team and suppliers.
Developing an Operations Manual is no mean feat. It takes hard work. It takes time and energy and is something that can constantly be changing. If you really want to save money, then finding a free operations manual template will be the best way to get your system underway for little cost.
Be warned though, this will take extra effort and it is likely that just purchasing an already made template will not only save you significant time but a ton of money in the long term as well.
We take a look at the free options available online in this article below. If you are on the look out for a free operations manual template, then read on below.
---
What is an Operations Manual?
Wikipedia determines the operations manual as the following.
"The operations manual is the documentation by which an organization provides guidance for members and employees to perform their functions correctly and reasonably efficiently. It documents the approved standard procedures for performing operations safely to produce goods and provide services."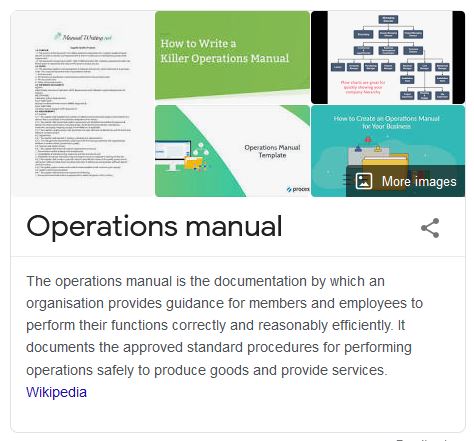 https://en.wikipedia.org/wiki/Operations_manual
If you operate a small or medium business, having an operations manual is going to make a huge difference to the performance of your organization. These types of documents explain a lot of detail for your team to follow. They are also a document that is constantly updated.
Let's take a look at a Google search for a free business operations manual and an Operations Manual Template.
---
Wait a Second…
If you drill down into the detail, an operations manual or business operations could mean several different things. For example, does it mean just the operations part of the business such as the factory floor or does it mean the whole organization?
Well it really depends on who is writing the content, article or whatever they are trying to communicate. For example, check out Shopify's explanation of an Operations Manual. They think it is everything collectively in the business that keeps it running and making money.

However, if you do a Google search using the Google Ads keyword tool, a few related ideas pop up. See the image below. Click to enlarge.
---
Google Ads Keyword Tool
---
So an Operations Manual could be known as several different types of documents with the same purpose.
Training Manual, Reference Materials, Technical Manual, Supply Chain Manual, Maintenance Manual, Development Manual and Management Manual.
What about Marketing Manual, Policy Manual, Procedure Manual, SOP Manual, Operational Policy Manual and the list goes on and on.
---
What Does Your Business Look Like?
There is no set way to do this stuff. It depends on your business. The best way would be to keep it simple. So many things have become over complicated The best thing you can probably do is keep it as simple as you can within the realms of what you produce or deliver.
Overall, probably the best term for all of these documents is an Operations Manual and everything else come beneath this. Seems to make sense right?
The important thing is that this type of manual is a document that helps you operate your business. It can become really detailed. It can become really extensive and they usually take a long time to develop.
However, you can purchase ready made templates to speed up the process of creating your operations manual quickly, efficiently and cost effectively so you can get on with the task of operating your business.
---
What is the Best Format for an Operations Manual?
There are generally two options you have to create your operations manual. A paper/printed manual or a digital operations manual. There are significant benefits of having a digital operations manual including it will be cheaper to create and can easily be updated by numerous people.
A paper based manual might be easier for simpler tasks for team members who are not sitting behind a computer. However, it wouldn't be too difficult to set up a kiosk for your team to use even if they work on a factory floor, in a warehouse or even in a coffee shop.
Really, a paper based operations manual is likely to be unsuitable for business since technology has rapidly evolved.
It is also important to remember that an operations manual is not a training manual. However, the overall operations manual may include the training manual within it. Really, an operations manual is the business as a whole and includes all departments. It would make sense to create it that way anyway.
What Should an Operations Manual Include?
If you are a small business, we believe an Operations Manual should be relatively simple. However, there probably needs to be several sections to include in your Operations Manual.
Minimum Requirements
At the minimum a number of sections such as the following are typical to any type of business.

Business Introduction


Vision and Values


Administration Manual

Finance Manual


Human Resources Manual


Operations Process Manual

Emergency Procedure Manual

Marketing Manual
Including all of these sections in your Operations Manual will ensure you grasp each area of your business and set it off heading in the right direction.
When newcomers enter your business, they will fall under any one of the operations manual areas, and you can get them to develop their own areas as your business grows.
Statutory or Regulatory Requirements
There might also be statutory or regulatory requirements for specific content that is needed in your operations manual. However this will depend on the type of business you operate. These parts of a manual typically require authorization and are normally controlled documents.
So let's take a look at some of these sections in detail.
---
Components of an Operations Manual
Business, Introduction, Vision and Values
We believe you need an introduction to your business that sets the direction and meaning behind why you are in business in the first place. Your business needs to mean something. If it doesn't, your team might feel as though they have no direction and are simply floating along and reacting to whatever comes their way.
This Business Introduction, Vision and Values section outlines the 'Vision and Values' of your business, sets direction for your team and allows you to think of the big picture.
Administration Manual
The Administration section includes everything to do with operating the administration side of the business. This includes things like general tasks such as answering the phone and providing stationary and facilities for staff to use on a daily basis.
This particular part of the Organization is important because it helps the business to operate smoothly.
Finance Manual
The Finance Manual includes everything to do with finance such as approving monies to be spent, purchasing transactions, team credit cards and invoicing and debt collection.
This particular aspect of a business is crucial to ensure cash-flow and ensure the business has suitable funds to keep operating.
Human Resources Manual
The Human Resources section of a business can be complex and demanding. This part of the business deals with team contracts, entitlements, team member concerns and behavior.
There are plenty of standards that need to be met in this area of the business and are often dictated by law. Often one of the harder parts of a business this area often needs a specialist.
Operations Process Manual
Operations are the core of your business and the product or service you provide. Documenting your process is one of the most important things you can do for your organization. It has far-reaching effects into all areas of your business.
Your operations process manual should detail how everything is done within your business. From quality control to cleaning the factory floor or cleaning the office, it doesn't really matter, everything should be documented.
As you can imagine this is a huge undertaking. However don't expect it to be done quickly just expect it to be done thoroughly. Every time you document a process or procedure you save a significant amount of time the next time somebody needs to complete that task.
This is particularly important when new team members start in your organization. However it doesn't apply just to new team members it applies to existing staff that have been there for a while as well. Having processes and procedures documented ensures a good quality outcome for your product or service.
Even existing team members that have been in your business for a long time need to be reminded on how to do things correctly. If your business is complex then these tools are necessary reminders to get things done to the standard you expect.
Can you expect to be delivering a high quality standard if you don't have any rules or documentation to follow? It simply won't happen because people will apply their own personal standards to their jobs. Everybody is different and everybody's standards are different and so this is where operations processes and procedures come into play.
All of your operations and processes should have quality control checklists. This ensures that the quality leaving your business is of the highest standard. Everybody misses things particularly when there is a lot of details to be captured and therefore checklist are an awesome tool to ensure that quality is met.
Emergency Procedure Manual
An Emergency Manual is a definite inclusion for your Operations Manual. This type of document explains in detail what should be done should there be an emergency that impacts your business.
It includes actions and procedures to take in the event on an emergency.
---
Download a Comprehensive Operations Manual Template
Review Digital Documents Direct Operations Manual Template. Get a Bonus 50 FREE templates when you purchase our Operations Manual Template.
Click the image below to read more.
---
Where Can I Find a Free Operations Manual?
If you're looking for an operations manual template free download, it could be quite difficult to try and find one that suits your business specifically. If you do a quick search on Google you will find plenty of templates it our examples of operations manual from other companies. These aren't really free operations manual templates because all they are are examples from other organizations.
Download our basic Free Operations Manual Template.

Click the link above to download MS Word File. No Sign Up. No Obligation. Just free.
If you're really looking for a good Operations Manual or a sample operations manual for small business, then you probably need to consider purchasing one from the many options available online.
As these documents are complex there are probably not very many good available free options.
---
Will Anyone Even Use Your Operations Manual?
Yes and no. It really depends on how you set it up and how easy it is to use. Here are some ways you can ensure it is actually going to be used.
Activate your Team to Create the Manual
You cannot create your manual all by yourself. It will not only take a lot of time, you will probably get parts of it wrong. Utilize the experts in your business and delegate sections of the manual to the relevant personnel in your organization. They are the best people to create your manual with you overseeing the process and content.
Use an Easy to Access and Use Interface
If you are starting out at the basics, MS Word will do the trick. However, it could become pretty big very quickly. It will then be time to find some sort of online system that is cost effective and concise to allow you to create a more detailed system.
It will need permissions to restrict personnel from confidential areas of the system, the ability to easily update and add content, and a good backup system as a minimum.
Lead and Delegate
You the owner and leader of your team should drive your business forward using the Operations Manual. As owner, you need to be the one encouraging your team to use it. This will ensure quality is kept to a high standard at all times.
If you the business owner and leader of your organization is not really interested in creating and using your operations manual, then it will never work. You need to be committed to creating it and using it every single day.
---
Corporate Operations Manual Examples
Large corporations obviously have the operations manual gig going well. They have everything documented and typically run each department through their system manuals.
If you really want to build your business then take a look at how large corporations operate. You can easily find some of these manuals online with a simple Google search.
After-all, this is a good way to determine what works and if you can take some inspiration for companies that are succeeding then you have more chance of your business operating in a manner that is efficient, productive and profitable.
---
What is Your Experience with Business Operations?
You will be able to save a significant amount of time by using an Operations Manual Master Template. Leave a comment below.
Operations manuals are complex documents that include a lot of information across all areas of a business. The fastest way to create an operations manual is to use master templates. Obviously creating an operations manual is going to take a huge amount of time and effort.
If you want to save a lot of time and effort than the best thing you can do to use a master template. A master template may not have every specific thing in there you'll need but he will have a lot of content that is generic to a lot of businesses. Chances are you'll save a ton of time using a generic operations procedure manual template.
---
More Good Quality Operations Manual Content
Below are some great articles about Operations Manuals and how they can improve your business.
An Operations Manual That Will Minimize Errors, Waste, and Stress
5 Reasons You Need a Documented Operations Manual
How to Write an Operations Manual
---
Videos on Operations Manuals
Below are some great videos on Operations Manuals. You can see that a lot of business owners don't bother to document their business and that is why they don't really have a business that operates without their constant input.
Anyway, check out these videos below as there is certainly some useful content within them.
Video 1 – How to Create an Operations Manual
Video 2 – Your Business' Operations Manual – The Road from Growth Plan to Execution
Video 3 – How To Create A Manual Using Microsoft Word: Short, Quick, And Simple Easy Design
---
Frequently Asked Questions
What is an Operations Manual?
An operations manual is a document that outlines all of the procedures, rules, guidelines, vision, and values of an organisation. It is a tool that is used by all staff members to perform their role in the business.
Should I buy an Operations Manual Template?
Purchasing a template is going to save you a significant amount of time and effort getting your operations manual together. These documents take a lot of time to create.
Does my business really need an Operations Manual?
The operations manual is the foundation for the business and should be a critical component of any business.
What should be in an Operations Manual?
An Operations Manual should have a large amount of data in it including information regarding all aspects of your business including team engagement leadership and all processes.
---
Speak Your Mind
Any thoughts about Operations Manuals? What has worked in your business and what hasn't?
Do you even use an Operations Manual to operate your organization? Leave a comment below.