The best way to do this is to get your team to help you. You need the resources to gather the information and help you collate it in a way that makes sense. So take the time to plan it first.
Want to Save Massive Amounts of Time?
Use our Operations Manual Template.
Read More
Start planning it out by creating a table of contents about how you want it to look and then engage with your team to create each area based on their expertise.
You might need to look at the bigger picture when you start. For example, a crucial decision is how are you going to deliver it? What format will it be in? Will it just be a MS Word document or are you going to create a super-intranet system?
Either way, if you get your team to help, before you know it, you will have a comprehensive Operations Manual. You team will want to use it because they helped create it. They will find it really helpful in their daily tasks and best of all, the performance of your business will skyrocket.
It's worth the effort. Believe me, it will make a difference and you will be glad you started.
---
Operations Manual Table of Contents
So the table of contents will help you plan your document. If you list our each section and then sub-sections you will quickly be well on your way to creating a document that is useful and relevant.
The last thing any business needs is useless paperwork that no one reads or uses. This occurs in many organization. It doesn't have to in your business.
Just create something that is relevant, clear, easy to read and easy to update and use.
---
What Should be in your Table of Contents?
It will really depend on your business, how complex it is, what you produce and how it operates. However, you can pretty well assume that you will need the basics such as Vision, Finance, Operations and Marketing at the very least. Take some time to get together the main pillars of your business.
There isn't any right or wrong way to do this. It comes down to your organization and how you want to structure it. Below we propose 8 pillars that are typically relevant to any business.
---
8 Important Pillars
The following 8 areas will allow you to create a relatively comprehensive Operations Manual and get your system underway. These are:
Business Introduction
Vision and Values
Administration Manual
Finance Manual
Human Resources Manual
Operations Process Manual
Emergency Procedure Manual
Marketing Manual.
You might need additional areas for your business, however if you just start with the above, you will be well on your way to creating something of value for your organization.
Within each area there is likely to be a lot of detail. If you have particular personnel in your business that manage these areas then it would be ideal to get their input and ask them to take charge of their section.
With your guidance you will soon create a significant Operations Manual that will become an extremely useful tool that you can use daily and provide to new team members when they arrive in your business.
Detailed Table of Contents
Once you have determined the important pillars of your organization, you can then drill down into the detail. Below is an example of this within a Marketing Pillar.
---
Operations Manual Template Table of Contents Sample
Looking for a Operations Manual Template Table of Contents Sample? Review this sample below. This is a basic sample for a typical business, so it may not apply to your business.
But generally, there are aspects of most businesses that are the same. Depending on how large your business is will depend on how detailed your Operations Manual is.
You may need to break your operations down into the pillars as mentioned above or just use a simple document like the table of contents below.
Either way, you should start off by setting the direction of your business with a Mission and Vision and then progress to the general details and safety requirements. Then, after that you can jump into standard procedures and detailed tasks. Finally, summarize it at the end.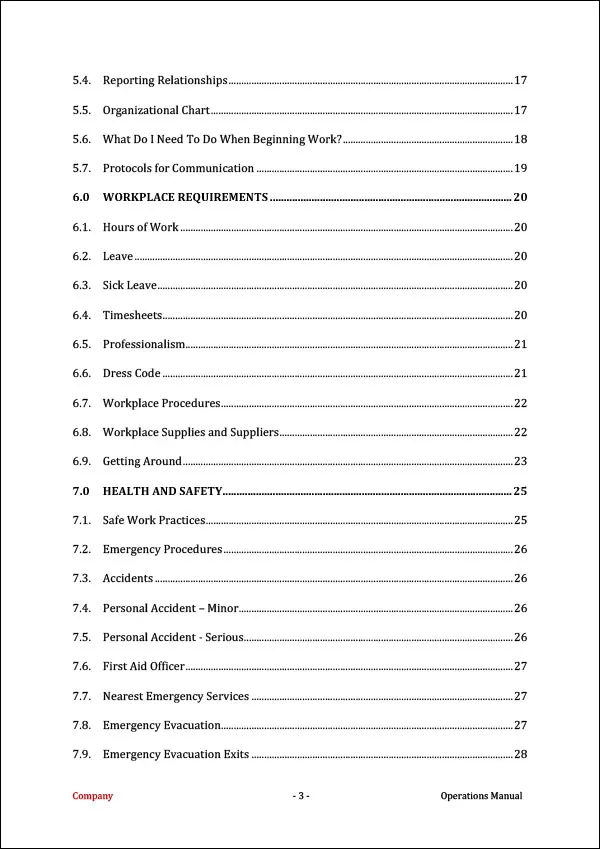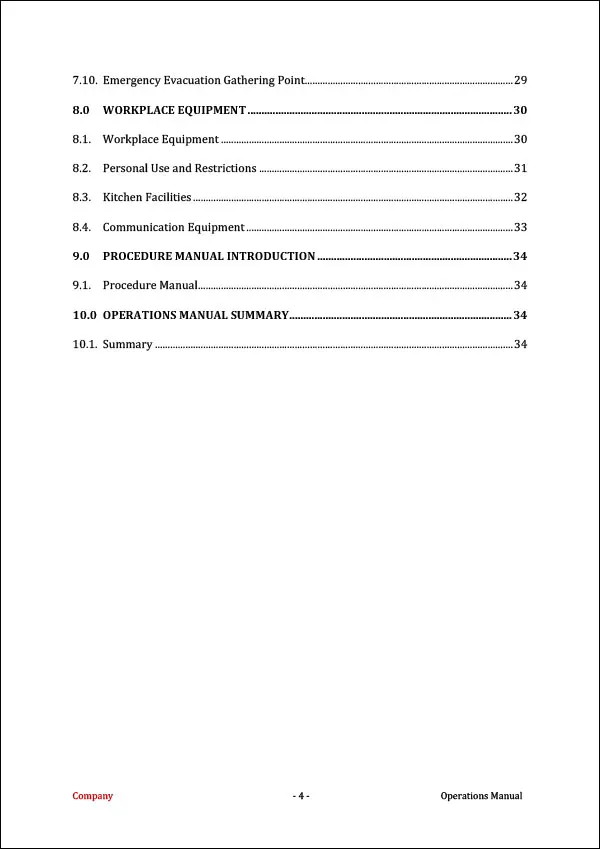 ---
Operations Manual Template
There is a ton of work to develop an Operations Manual even if your team help you. If you want to speed up the process then purchase a template and be done with your operations Manual in a matter of days instead of months.
Save a ton of time by using our Operations Manual Template. Create your manual in a matter of minutes instead of months.
---
Your Thoughts?
What do you think should be in an Operations Manual? Have you created one for your organization?
What does it look like? Share your thoughts below.