Can you really afford to not have Standard Operating Procedures in Your Business?
---
Remarkable Results Almost Immediately
Do you want to improve the performance and profit of your business quickly, without spending a huge amount of capital?
Are you constantly frustrated that your team miss important details?
Are you tired of repeating yourself?
A Standard Operating Procedure Manual is the solution to the above problems and more. It will dramatically improve the value and performance of your business.
If you need to improve the performance of your business quickly and cost effectively, you need a Standard Operating Procedure Manual.
Can you really afford to not have a Standard Operating Procedure Manual in your business?
---
Huge Benefits Having Standard Operating Procedures in Your Business
If your team make mistakes, it directly impacts your customers. You already know yourself when you visit a business what it feels like to receive a sub-standard service or product. It's disappointing.
The same goes for your team. If they only know 40%, 50% or even 80% of what they should be doing correctly – imagine what your customers think?
It is highly likely they are thinking – 'Won't be going there again……' Can your business afford this in such a competitive environment? A Standard Operating Procedure Manual eliminates this problem.
However, creating these systems take a lot of time and effort. Using a template will save you considerable time and allow you to get a head start in building value into your organization.
In addition to these benefits, it will also help to reduce your concerns about delivering the very best quality to your clients and customers, which you already know is so important for business survival.
---
6 Breakthrough Advantages of a Standard Operating Procedure Manual
As soon as you mobilize a Standard Operating Procedure Manual you will notice the things that have been frustrating you will start to disappear. The following 'breakthroughs' will occur.
1. Competitive Consistency
Consistency will start to appear. Not only that, delivering consistently will make your business more competitive.
Your product or service must be delivered with consistency. Consistency drives repeat business. Repeat business means survival. You can't rely on getting new customers all the time. You need to satisfy your existing customers, so they return for more and also refer new customers to your business.
The only way to do this is to ensure you and your team are delivering a high-quality product or service every single time.
How do you get your team to deliver to a high quality? Set benchmarks and systems for them to follow by using standard operating procedures.
2. Reduced Errors and Mistakes
Errors and mistakes will start to disappear.
Competition is tough. You cannot afford to make mistakes or provide sloppy service. If your customers are not happy, they will simply go elsewhere at the drop of a hat.
Your customers are smart, and they will go elsewhere if you don't look after them. Meet their expectations.
How do you get your team to reduce mistakes? Set benchmarks and provide checklists for them to use with standard operating procedures.
3. Surprising Efficiency
Eliminate rework.
Rework eats up time and profit. Your business will become much more efficient because things will get done correctly the first time. You can't afford to be completing tasks twice.
Get tasks completed accurately the first time.
4. Outstanding Quality
Your product or service quality will improve because your team know how to deliver in accordance with the standards. Better quality means you can charge higher prices. Set benchmarks to meet quality requirements.
5. Valuable Profit
Profit will increase.
If you cannot get your product or service to your customers in a consistent and error free manner you will struggle to make a decent profit. If you cannot get customers to come back it will mean more effort to gain new customers.
Depending on what industry you are in, acquiring a new customer is anywhere from 5 to 25 times more expensive than retaining an existing one.
Therefore, it makes sense to avoid mistakes and retain the right existing customers.
6. Relax a Bit
Feel a bit overwhelmed at times operating your business? Standard Operating Procedures allow you to delegate effectively in accordance with the 'rules'.
You the business owner will be able to relax a bit more because your team will know they need to abide by the guidelines to perform.
In conclusion, if you do not have a standard operating procedure manual then you are doing it the 'hard way'.
---
Time Saving Template
Using a template is going to save you significant time. If you don't have the time to spend working out all the standard procedures for your business, then a template is what you need.
A template will provide you with a foundation to create your systems manual. Review the content of the template below.
Please note the pages below are only of sample of the full template. Refer to the Table of Contents to view all pages included.
---
Review the Template
Title Page
The first page is the Title Page which you can easily customize to suit your business.
Table of Contents
The next pages are the Table of Contents. You can see the different sections of the manual that are included. This Table of Contents is fully automated using Microsoft Word's Table of Contents feature.
Section 1 – Welcome Introduction
Section 1 is a welcome to your business. It is an opportunity to welcome any new employees and also introduce the Standard Operating Procedure Manual.
Section 2 – History, Vision and Mission Statement
Section 2 is a place to communicate the History of your organization as well as an opportunity to outline your Vision and Mission Statement. A Vision describes the desired future position of the company. A Mission Statement drives your company.
There are numerous Visions and Mission Statements provided that you can adjust to suit your business, or simply write your own.
Section 3 – Company Values
Section 3 is about values. If you do not communicate your values to your team, they will make up their own which is likely not going to end too well. Communicate your values and keep the standards high.
Section 4 – How to Use the Manual
Section 4 is a simple section about how to find things easier in the manual.
Section 5 – Environment and Company Details
Section 5 is to communicate specific company details. There are also methods of communication, organizational chart, roles and expectations and reporting relationships.
Section 6 – Workplace Requirements
Section 6 is about Workplace Requirements. This is an opportunity to communicate the general rules such as opening and closing times, time-sheets, dress code and other general items.
Section 7 – Workplace Supplies and Suppliers
Section 7 is about general workplace tasks such as booking a courier or handling petty cash.
Section 8 – Health and Safety
Section 8 is about Health and Safety including emergency requirements, evacuation exits and an evacuation gathering point.
Section 9 – Workplace Equipment
Section 9 is about workplace equipment. This is a place to communicate to your team your expectations for using and looking after equipment, computers, vehicles and tools.
Section 10 – Standard Operating Procedures
Section 10 is the beginning of the Standard Operating Procedures. This section has a range of typical operating procedures you could expect in any business.
You can add or delete items to suit your business.
The following procedure is an example of 'Meeting Room Preparation'.
Standard Operating Procedure – Meeting Room Preparation
The first example is how to prepare a meeting room.
Standard Operating Procedure – How to Clean Your Workstation
The next example is How to Clean Your Workstation.
Standard Operating Procedure – How to Complete Your Time-sheet
The next example is How to Complete Your Time-sheet.
Standard Operating Procedure – How to Lock the Office/Workplace
The last example is How to Lock the Office/Workplace.
Section 11 – Summary
Section 11 is the last page and summarizes the manual.
This is a detailed Master Template that will allow you to create your Standard Operating Procedure Manual quickly, efficiently and with minimal headaches.
This is a 67 page document.
The templates are formatted to include the MS Word Navigation feature which makes them easier to use quickly. This is shown below on the left hand side of the image. Click to enlarge.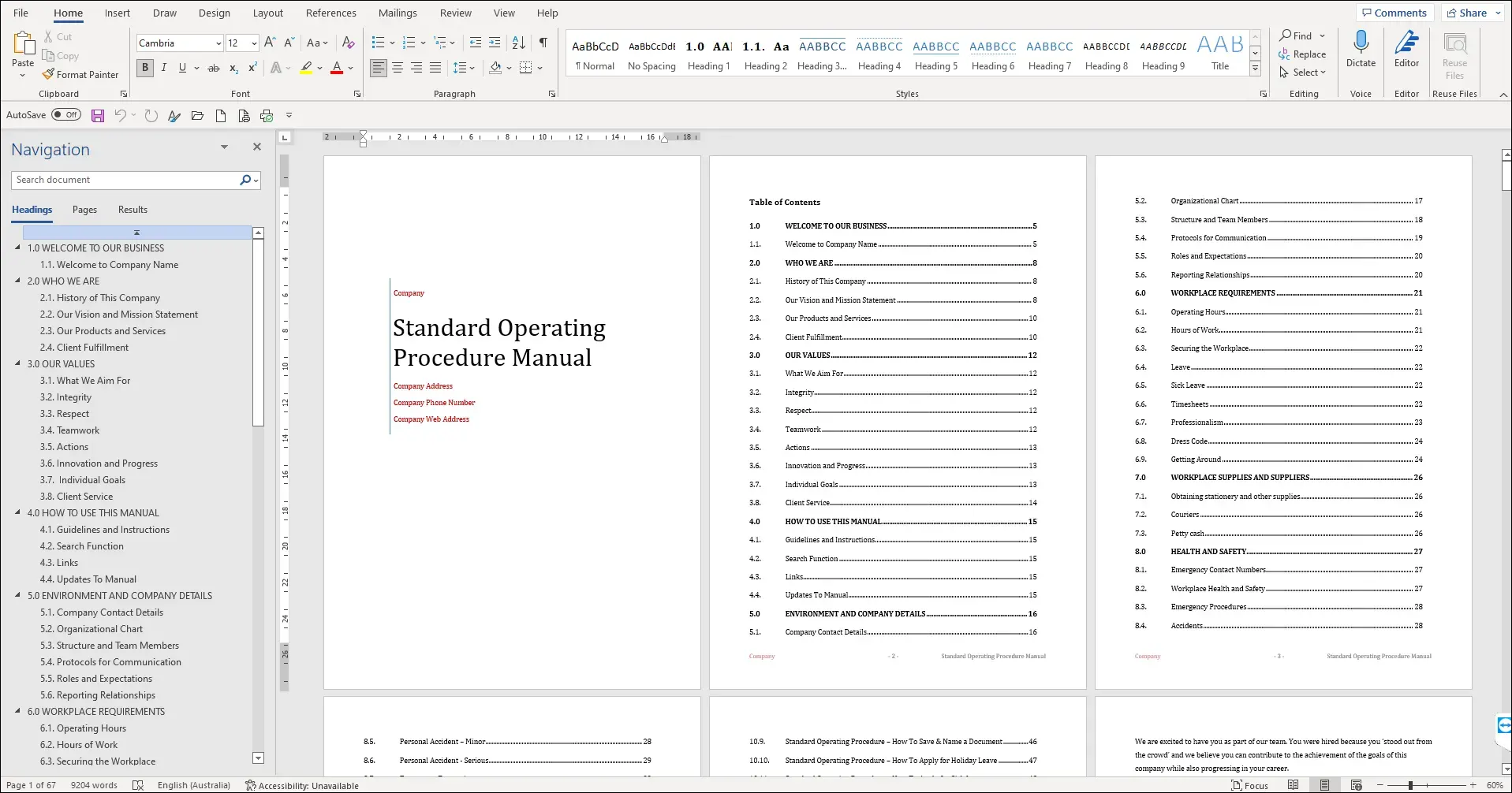 ---
Free Bonus – Additional 50 Master Templates
When you buy this Standard Operating Procedure Manual Template, we include another 36 templates free. These templates are all related to Standard Operating Procedures and operating a business.
There is a large list of policies and other templates that will help you operate your business. You can easily add these to your system to dramatically improve your business.
---
Total Inclusions
Standard Operating Procedure Manual Template
Microsoft Word File .docx file
Page Count
67
Word Count
9201
Free Bonus 50 Additional Master Templates
Microsoft Word Files .docx files
File Count
50
Word Count
Templates range from approximately 100 words up to 6600 words for the Standard Operating Procedure Manual Template.
Click to Enlarge
---
Comments from Previous Buyers
Testimonial
My search for a procedure manual template took me several days. I was getting really worried when I would read articles that claimed that it takes a few months to write one.

Then, after perseverance, I ended up on this website where the template cost much less than anything else I found online.

At first, I thought it would be something very simple and basic. To my great surprise, it had everything I needed. This Procedures Manual Template will expedite the process of compiling one for your company while sustaining the quality.

Racine
www.worldv.net
I have already started to use the template and customize it to my specific needs. I have looked all over the internet and your template is by far the easiest to use and modify.

Anyone who is looking to get a quick start on a procedure manual that is easy to modify and continuously update, would be well served to purchase your template as it is a "Real Bargain" at the price.

James Miles
President
Consolidated Community Management, Inc.
Tamarac, Florida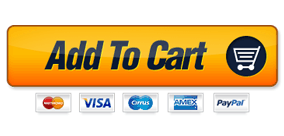 USD 77
Shop with Full Confidence
90 Day Full Money Back Guarantee
---
Immediate Download
Using our templates will save you a huge amount of time.
Regards,
David
P.S. The price of our products do rise based on upgrades, improvements and demand. We encourage you to buy today not only to avoid missing out at this price, but also to immediately reap the benefits of systemizing your business.
---
Frequently Asked Questions
---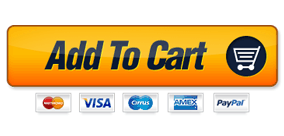 USD 77
Shop with Full Confidence
90 Day Full Money Back Guarantee