Are you willing to risk your project or business because you didn't have a Safety Plan?
Safety Plan Template
+
Free Bonus
4 Additional Safety Master Templates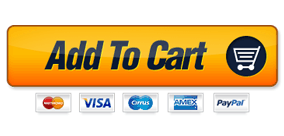 USD 27
Shop with Confidence
90 Day Full Money Back Guarantee
Read Reviews

100% Secure Shopping ✔
Secure Digital Delivery by E-Junkie ✔
Easy to use MS Word template ✔
Fully Automated Table of Contents ✔
Page Count 31 ✔
Word Count 4156 ✔
4 Additional Safety Templates ✔
No Complex Software ✔
No Complex Subscriptions ✔
90 Day Full Money Back Guarantee ✔
Instant Download ✔

---
Safety is Good Business
Don't risk it. Health and safety on a construction site and in the workplace benefits everyone. A safe work environment means that your business can operate successfully while increasing worker performance, safety and morale.
Use this safety plan template to fulfill your safety obligations and create a detailed safety plan quickly and at minimal cost.
---
Safety Plan Essential
No doubt you already know how important health and safety is to your business or project. It is crucial. A health and safety plan helps you enforce the rules.
Poor Safety = Pain and Suffering
Accidents cause a great deal of pain and suffering. Not only is this a horrible experience, it is something that no one deserves to go through. The last thing you need, or want, are accidents in your business or on your project.
Poor Safety = Poor Profit
Not only do accidents cause pain and suffering, they also hit your 'bottom line'. Can you imagine not only the cost to your business but also the stress of having to deal with accidents?
Protecting your team ensures your project operates more efficiently and all attempts are made to avoid accidents, which then helps to boost profit.
Accidents – Avoid them at all costs.
---
Safety is Complex
There are many things that should be considered on any project or within any business that are related to managing safety.
One of the most important tools is the Safety Plan.
A safety plan outlines every aspect that needs to be considered when it comes to managing a safe workplace. It is a detailed document that is often required by law before a project starts.
Are you meeting the law requirements for where you operate? Have you checked to see if you are operating within the law of your jurisdiction?
---
5 Valuable Benefits of Safety Plan
There are huge advantages of implementing a safety plan in your business or project. Below are 5 immediate benefits.
1. Reduction in accidents
Less pain and suffering for people. Reducing accidents should be your priority.
2. Better communication
Your team will be more informed and educated about correct procedures. Communicating the rules is essential to ensure team compliance.
3. Increased profit
A reduction in the number of accidents will improve your 'bottom line.' Accidents cost money. The last thing you need to be dealing with are accidents.
4. More efficient
Your project or business will operate more efficiently. People will have a better idea of what they are doing and how to do it accurately the first time.
5. Sleep easier
Stress less and sleep easier knowing you have put safety procedures in place. You cannot hold everyone's hand all the time, however you can put documentation in place to ensure the best outcome possible.
These are just 5 valuable and practical benefits of having a safety plan. However, there are so many more.
Not only will implementing a Safety Plan make a big difference to the professionalism of your business, it could be required by law. If you are unsure you should confirm with the Authority in your jurisdiction. Don't risk it.
---
Create your Safety Plan fast with this Master Template
Because a Safety Plan is so comprehensive, it often takes a considerable amount of time to create. You need to think about all the possible scenarios that could happen. This means you need detailed information of each possible scenario.
An effective Health and Safety Plan will have a significant amount of detail in it and communicate this information in detail to the reader.
An Efficient Time Saver
A template will save you massive amounts of time and effort and allow you to generate a safety plan almost immediately. The best thing you can do to save significant time is get hold of a Safety Plan Template.
A template already has the majority of the work completed in it and will allow you to simply modify it slightly to suit your business or project.
---
Take a look at the Detailed Contents
This is a detailed construction safety plan template that you can customize to suit your project.
This document has a fully automated table of contents using Microsoft's Word Table of Contents feature.
To update the table of contents – all you simply do is amend the title in the body of the document and then right click on the existing table of contents and hit 'Update'. This allows you to create a professional document quickly and efficiently and allows you to modify this document easily.
Title Page
The following is the title page which you can easily amend to suit your project and business.
Title Page
Table of Contents
This Table of Contents is fully automatic using Microsoft Word's automated Table of Contents feature.
Table of Contents Page 1
Table of Contents Page 2
Table of Contents Page 3
Section 1 – General Details
This section allows you to enter general details of the Principal Contractor and other contact details.
General Details
Section 2 – Health and Safety Policy
Section 2 has a Health and Safety Policy. Refer to the beginning of the policy below.
Health and Safety Policy
Section 3 – Definitions
Section 3 is about Health and Safety definitions.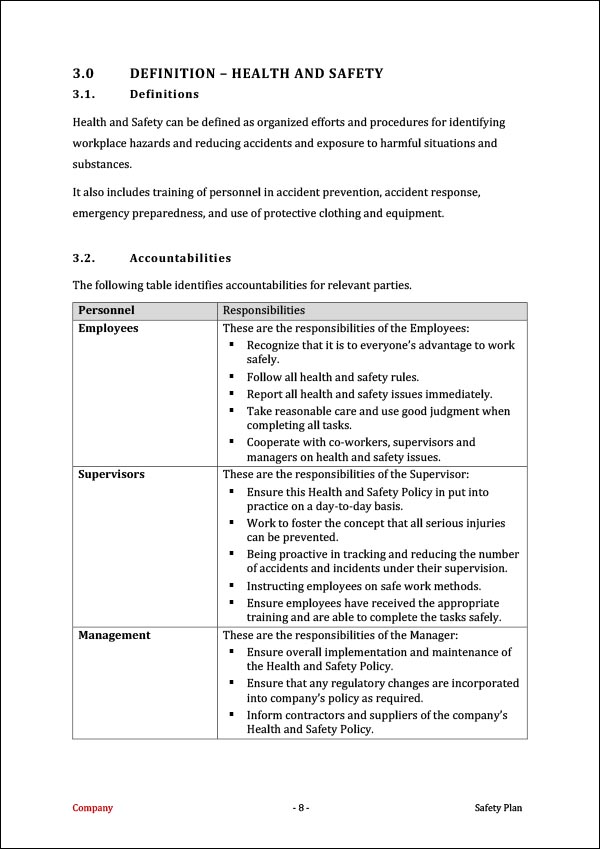 Section 4 – Management
Section 4 is about Management and you can create an Organizational Chart. This template is detailed enough to allow you to create a comprehensive safety plan.
Management
Section 5 – Communication
Section 5 explains communication requirements including specifics for safety meetings.
Communication
Section 6 – Health and Safety Committee
Section 6 describes contacts for workplace health and safety and contacts for a workplace health and safety officer.
Health and Safety Committee
Section 7 – Site Specific Details
Section 7 is about site specific details.
Section 8 – Specific Site Activities
Section 8 describes site specific activities. A sample of these activities are listed below. Refer to the Table of Contents for all the site specific activities that are included.
Specific Site Activities
Section 9 – Personal Protective Equipment PPE
Section 9 describes PPE requirements, a crucial component of any Safety Management Plan.
Personal Protective Equipment
Section 10 – Accidents
Section 10 identifies accident guidelines and procedures.
A Safety Management Plan communicates to your staff, sub-contractors and visitors exactly what they need to be mindful of when it comes to safety in the workplace and how to deal with incidents should they occur.
Accidents
Emergency Contacts and Accidents
There is also a section to indicate emergency services.
Emergency Evacuation Site Gathering Point
There is also space to include a site plan and show the emergency evacuation site gathering point.
Site Map and Gathering Point
Section 11 – Auditing
Section 11 is about auditing.
Section 12 – Summary
Section 12 is an opportunity to include a summary of your Safety Plan.
This Safety Plan Master Template is detailed and will provide you with relevant information that you can use as a solid base for your Safety Plan. There are 12 sections and 31 pages all dealing with safety aspects from the basics through to specific procedures on site.
You must do everything you can to protect your team members, visitors and contractors by law, so not having this basic requirement is a recipe for disaster.
As a business owner, you should put in place everything you can to protect your employees. The last thing you want to be doing is dealing with a major workplace incident.
---
What is Included?
Safety Plan Master Template
File Type
Microsoft Word .docx
Page Count
31
Word Count
4149
---
4 Bonus Additional Safety Master Templates Free!
When you buy this Safety Plan Master Template we will include another 4 relevant safety templates 100% free.
List of Free Master Templates below
Health and Safety Policy Template
Incident Report Form Template
Incident Report Template Template
Safe Work Method Statement Template
These Master Templates are relevant to building up your safety policies, procedures and rules in your business.
Free Template 1
Health and Safety Policy Template
Page Count
4
Word Count
538
Title Page
The first page is the Title Page. You can easily customize this to suit your business.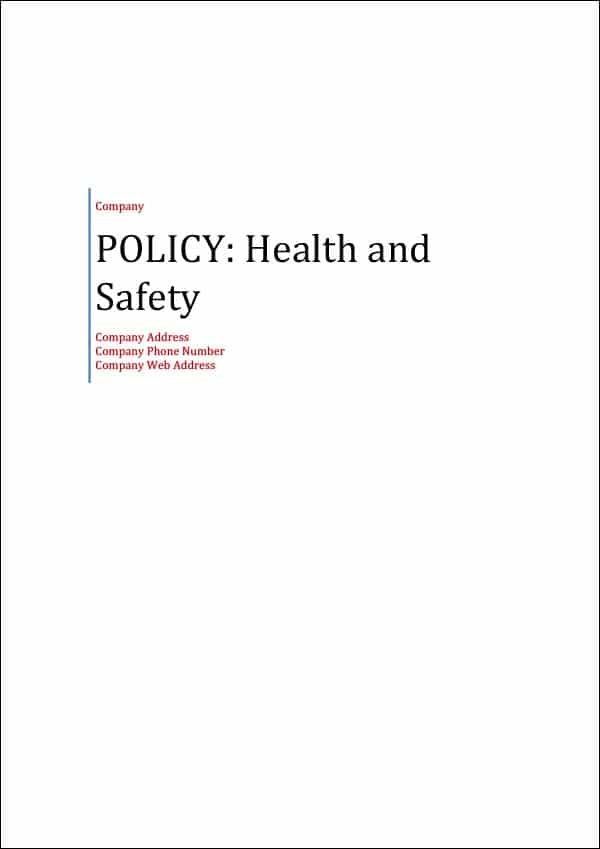 Policy
The first page is the beginning of the policy.
Free Template 2
Incident Report Template
Page Count
8
Word Count
587
The following template is an Incident Report Template. This template is 8 pages in length. A small amount is shown below.
Title Page
Table of Contents
The following page is the Table of Contents.
Section 1 – Incident Report General Details
Incident Report Snapshot
Free Template 3
Incident Report Form
Page Count
1
Word Count
150
Free Template 4
Safe Work Method Statement Template
Page Count
7
Word Count
850
Title Page
The following page is the Title Page.
The next page is the beginning of the Safe Work Method Statement.
---
Total Inclusions
Template File Types
Microsoft Word .docx
Safety Plan Master Template
Page Count – 31
Word Count – 4156
Health and Safety Policy Master Template
Page Count – 4
Word Count – 538
Incident Report Master Template
Page Count – 8
Word Count – 587
Incident Report Form Template
Page Count – 1
Word Count – 150
Safe Work Method Statement Master Template
Page Count – 7
Word Count – 850
---
Easy, Quick, Efficient…..Done
Time Saving Templates
Our Master Templates are easy to use and apply. Use Microsoft Word to find and select the relevant information to customize it to your needs.
Customize in Minutes with Red Highlights
To assist you in customizing our Master Templates quickly and easily, all items that need customizing are highlighted in red. You can simply use the Find and Select tool in Microsoft Word (Ctrl+H) to identify all relevant items in one hit and replace instantly or simply scroll through and change the items in red.
---
Unconditional 100% Money-Back Guarantee
Our Guarantee
SAVE TIME using our templates or your Money-Back.
Not only that, if you are not happy for any reason we promise to return your hard earned money with no questions asked.
Our templates are designed to save you time creating your documents. We offer an unconditional 100% Money-Back Guarantee with no questions asked if you are not satisfied.
No catches, tricks or conditions. Just your money refunded in full.

Easy to Purchase and Instant Download

Easy to Customize and Use

90 Day Full Money-Back Guarantee

No Questions Asked

Safe, Secure Shopping
Paypal Guarantee
Paypal Guarantees your purchase with Paypal Buyer Protection.
Ensure you get what you pay for with Buyer Protection.

Paypal is a secure and trusted method of payment. You can purchase through Paypal or Stripe with your credit card and be confident that you are dealing with a trusted supplier or your money back.
You will be able to download the Master Templates immediately after purchase.
---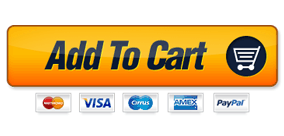 USD 27
Shop with Confidence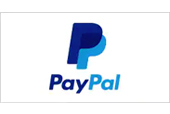 ---
Can you afford to risk it when it comes to safety in your business or project? Ensure you do everything you can to protect others involved in your organization or project.
Regards,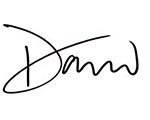 David
P.S. The price of our products do rise based on upgrades, improvements and demand. We encourage you to buy today not only to avoid missing out at this price, but also to immediately save time creating your Safety Plan.
All the best with your business and project.
---
Frequently Asked Questions
Is this complicated Software or Subscriptions?
No. This is not complicated software where you need an ongoing subscription or annual fee. It is a one off payment. There is no huge learning curve either. Just purchase and download and get on with the task of creating your documents quickly, easily and with no fuss.
Do I need a Paypal account to purchase?
No, you do not need a Paypal account to purchase our products. You can pay with Paypal or use your credit card.
Can I use a Credit Card to purchase?
Yes, you can use a credit card to purchase our products. We use Stripe.com as our credit card merchant. Or you can use your credit card through Paypal.com.
How will my information be used?
Your information will not be used whatsoever without your permission. In other words, your email address will not be sold or spammed.
Will I get on a spam list?
No. We may add you to our newsletter list. However you can 'opt out' at any time. Above all, you will not be spammed. We use Mail Chimp for our electronic updates.
Will I be the victim of identity theft?
No. Paypal and e-Junkie provide a 100% secure system to perform the transaction.
Will the purchase arrive on time?
Yes. As soon as you have paid for your purchase, you will receive a download link via email. However, please remember to also check your 'Junk Email' as if you have not received your link immediately, the email could be in your 'Junk Email Inbox'.
Should you not receive the download link, please contact us immediately and we will get back to you as soon as we can. Please note, the time zone of your country may effect our response time, however we will respond as soon as we can. Our business is located in Australia.
AEST – Australian Eastern Standard Time.
Will I actually get what I ordered?
Yes. We promise to deliver to you and stand by this promise with a 90 day 100% refund policy. Further to this, Paypal guarantees your transaction so you can shop with full confidence.
Can I make changes to the master templates and add my own information?
Yes. The majority of the master templates are Microsoft Word files or Microsoft Excel files. Easy to download and easy to use. You can easily add or remove content and customize the templates to suit your needs. A lot of the templates also have automated Table of Contents, so it is easy to make changes and then update the Table of Contents field so your Table of Contents is also updated. In addition, if you have any problems we can assist.
Will unexpected fine print charges be added to my order without my knowledge?
No. There are no further charges. No monthly subscriptions either. You have the right to use the document to your desires within our terms of agreement of purchase. There are no monthly fee or hidden charges. Similarly, what you see above is the only and final fee.
Will anyone respond if I have problems after buying?
Yes. However, there may be a delay in our response. Depending on your country timezone, we will respond as soon as we can. Please note, we endeavor to respond to your requests within the shortest possible time.
Will it be easy to dispute or cancel my transaction?
Yes. If you are not 100% satisfied with your purchase, we will refund your money 100%. However, we would love some feedback from you so we can improve our product should you believe it could be better.
I did not receive a download link after paying
Please do not panic. e-Junkie and SendOwl are both very reliable document delivery systems and it is unlikely this will occur. However, if it does, we will email you the download link as soon as we can.
The website briefly redirected through e-Junkie or SendOwl. Is this safe?
Yes it is safe. When you click on the Proceed to Pay button, you will be redirected briefly through e-Junkie.com or SendOwl.com depending on the product to Paypal.com or Stripe.com (Credit Card Payment) depending on how you choose to pay. We use e-Junkie or SendOwl to deliver our documents electronically so you receive them immediately – 24 Hours a day, 7 days a week.
---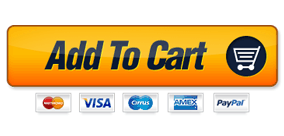 USD 27
Shop with Confidence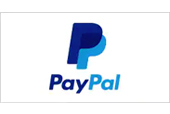 ---
Copyright © 2022
www.DigitalDocumentsDirect.com
All rights reserved. No part of this website or information may be reproduced or used in any manner without written permission of the copyright owner.
Your use of this site, templates and information are subject to our Terms of Use, Disclaimer, and Privacy Policy. DigitalDocumentsDirect.com is not a law firm and cannot provide legal advice. We provide information. While we make every attempt to provided detailed, comprehensive information, you are responsible for reviewing, checking and confirming the information provided is suitable for your use.
Safety Plan Template
Average rating:
4 reviews
Dec 2, 2020
Simple and Cost Effective
There are a lot of safety documents online you can purchase but I chose this one for simplicity and price. It saved me time and certainly was easier to create my safety plan.
Dec 15, 2019
Easy
This safety plan template was all I needed. Just a template in Word I could amend to suit our project. Was straight forward and cost effective. Thanks!
Oct 1, 2018
Has a lot of sections in it and was reasonably easy enough to customize. The Word table of contents certainly makes it easy to update. Will be using this template on several projects.
Apr 5, 2018
Safety is a priority
Safety is a priority for us at all times. I managed to get hold of your template and create a Safety Plan in a few minutes instead of days! It certainly saved me considerable time. Thank you.