SOPs (standard operating procedures) are the backbone of organizational excellence, acting as a guiding light in the maze of modern company operations. SOPs emerge as the steadfast blueprint in the constant quest of efficiency, safety, and consistency, ensuring that every task, from the mundane to the crucial, is completed with accuracy and reliability.
A Standard Operating Procedure Template will save you time and money. You can create your own Standard Operating Procedure Template using software such as MS Word or sign up to a website that automates the process for you.
---
Table of Contents
---
Standard Operating Procedure Definition
Wikipedia defines a standard operating procedure (SOP) as:
"a set of step-by-step instructions compiled by an organization to help workers carry out routine operations. SOPs aim to achieve efficiency, quality output, and uniformity of performance, while reducing miscommunication and failure to comply with industry regulations."

https://en.wikipedia.org/wiki/Standard_operating_procedure
Standard Operating Procedures are step-by-step instructions. These instructions inform people how to perform tasks or duties. Therefore, you can expect an improvement in quality and performance almost instantly.
People need guideposts. Guidelines to direct them in the right direction and deliver their skills to your clients and customers to an agreed benchmark.
The aim is to meet quality, performance and uniformity while reducing errors. In addition, they are useful to meet regulations and standards in any particular industry.
A simple representation of this process is below.
A Standard Operating Procedure is part of quality control. There are many terms around quality control in any business.
Quality manual, operating procedures, ISO 9001, ISO 9000 family, quality management, employee handbook, policy manual and policies. The list goes on and on and this area of business is huge.
A Standard Operating Procedure Template is a template you use again and again to create your SOP's (Standard Operating Procedures).
---
Why You Need a Standard Operating Procedure Template
The Advantages of Using a Template
When developing your Standard Operating Procedure Manual, a template will save you a lot of time. These instructions are often extensive and can take a long time to develop. Using a template will not only save you time, but it will also provide you with a framework to get started and will most likely save you a lot of money in the long run.
---
4 Ways to Create a Standard Operating Procedure Template
Below is a simple table that outlines 4 easy ways to create a Standard Operating Procedure Template and use these templates to create SOP's for your organization.
| | | | | | |
| --- | --- | --- | --- | --- | --- |
| Approach | Ease to Create | Ease of Use | Time to Create | Ability to Update | Cost |
| MS Word Template | 2/5 | 2/5 | 2/5 | 5/5 | 5/5 |
| Website Template | 1/5 | 5/5 | 5/5 | 3/5 | 5/5 |
| WordPress Template | 1/5 | 5/5 | 2/5 | 4/5 | 5/5 |
| MS Sharepoint Template | 3/5 | 2/5 | 3/5 | 5/5 | 1/5 |
4 Ways to Create a Standard Operating Procedure Template
You could really use any software based platform to create your Standard Operating Procedures. However you will need skills in operating the platform system or the ability to hire someone to do it for you.
---
Skills Needed to Create SOP's from a Standard Operating Procedure Template
Here are some skills that you need to create SOP's from a Standard Operating Procedure Template.
The ability to be analytical for determining correct processes
Detailed understanding of the platform you are using such as WordPress or MS Word.
Ability to communicate to employees and colleagues effectively to determine the correct process and document this
A broad knowledge of the organization with the ability to see the larger picture for all areas of the business
Excellent written skills to communicate in written form accurately
The ability to utilize tools to produce graphical representations of processes where necessary.
The above are just some of the skills you should focus on to produce quality SOP's for your organization.
---
OK – So All that Effort for What?
Simply, if you want to stay in business you need to deliver your products to a high standard. The only way you can do this is by ensuring every time you deliver your product or service it meets high quality control standards. In other words, your products or services need to meet standards you have set in your business.
Above all, the goal of SOP's in your business is to maintain quality. Further to this, to also maintain it in a repetitive manner. That means each and every time you deliver it.
Refer to the simple image of the repetition process below.
Sounds difficult?
Well yes, it can be difficult. However, it would depend on your type of business. If you have a complex business, you can break everything down into the tiniest tasks and quality manage each task. This is the only way to do it. After that, you would then be heading in the right direction.
Couple this with the right team who are knowledgeable, qualified and appropriate for your business, is going to help you meet those quality goals.
---
Further definition of an SOP – (Standard Operating Procedure)
As a business grows, the owner cannot be in one place for everything. SOP's allow business to grow. They do this by ensuring quality is maintained at all times by management and team members.
"Standard operating procedures (SOP's) are processes. They are documented and ensure services and/or products are delivered the same every single time."
Step by Step
Typically, SOP's or Standard Operating Procedures are step by step instructions. They are very detailed and include tiny steps to ensure that nothing is missed in the manufacturing or delivery process.
It is all about controlling quality as your business grows.
---
How do SOP's apply to all of a company?
SOP's can be in all areas of a company. For instance, it is not just the manufacturing process or service delivery process that have SOP's within it. It is also the marketing department, the finance department, the delivery department and any other department.
Lots of relevant information
In other words – that's a lot of work! More importantly, it needs to be relevant information. Procedures that people will actually use. Otherwise people are at risk.
SOP's can also apply to safety aspects of personnel tasks. For example, safety SOP's are instructions on how to keep people safe on a work site.
Clearly you can see that SOP's can be an extremely important part of a company and allow a company to run smoothly and efficiently.
---
SOP's are Needed Because…
As mentioned above, SOP's allow a business to operate efficiently and safely. They provide an excellent resource for personnel to refer to in their daily work.
Imagine no SOP's in a large company and trying to deliver a product that is complicated to manufacture? Potentially it would be CHAOS!
Each employee would be completing their tasks on how they thought was best – not as a team and not to any particular quality control.
SOP's are critical to deliver anything in a business accurately, efficiently, and to any particular quality.
---
How Important are SOP's?
Important or Just a Waste of Time?
Consider the situation below.
Just from the image and text above you can see how important SOP's are in any business. You might want Standard Operating Procedures when you need them most. They may not seem important or relevant at all times, however when things get hard or difficult, this is when they are most effective.
SOP's are very important to how your business operates. If you work in an industry where safety is paramount, they become even more important.

https://www.digitaldocumentsdirect.com/
---
So what does an SOP look Like?
Let's take a look at a real world example of a Standard Operating Procedure from a typical business.
Boeing Aircraft Start Up Example
For example, check out this procedure below which relates to a Boeing Aircraft start up.
Source: Scribd
SOP's are usually simple to read, are process or task based and consist of a number of steps within the procedures.
There are 3 columns and laid out in a simple to read manner. There is 1 column for Procedure, 1 column for Action and 1 column for Notes.
Also note the instructions in brackets at the top under the headings. These instructions require action in addition to just reading the procedure. This procedure has no step by step direction indicated in a graphic which is beneficial, and it is assumed that the checklist is followed by moving down the list.
It is pretty simple really. The hard part is the quantity of documentation required, and the effort required to put processes in place. Typically, there is usually a lot required.
Let's take a look at another one
OK, so let's have a look at another real world procedure. This one is a little bit different.
Source: iastate
So you can see from above, this one is simply a list of what to do. It is simple enough. Possibly presented slightly better and include headings in step format such as, step 1, 2, 3 etc. This would likely make it easier to read without too much more effort of creating the procedure.
It shows when the procedure was last revised. I'm not sure why this is important. Does it really matter when the procedure was last revised? I would think the more important thing is if the procedure is correct, accurate and still relevant.
Anyway, you can see the procedure is simple, easy to read and shows each step in the process for completing the task and also refers to the managers responsibility with regard to the task.
Let's take a look at a third one
This example below is definitely different. I am not sure I would like to be following the procedures in this organization. Take a look below.
You can see it is pretty simple but also graphically doesn't really have much going for it. There are no steps and it looks like a list of items.
This was also in a document with hundreds of pages. Imagine trying to wade through all this?
If you are creating a SOP, it should be easy to read, easy to use and relevant. This means laid out well. Step by step instructions make a massive difference. Include graphics to make the instructions more meaningful.
---
How will you create Your Standard Operating Procedures?
If you need to produce a Standard Operating Procedure Manual, Quality Manual, Policy and Procedure Manual or Employee Handbook you are in for a lot of work.
Note – all of these things are usually the same thing. They just have different names.
It is a great idea to find a sop template that suits your business instead of starting one from scratch. Digital Documents Direct have a number of options available. Refer to our Standard Operating Procedure Template.
---
Change Your Business with Standard Operating Procedures
If you are searching for a Free Standard Operating Procedure Template, it might be quite an onerous task to find a suitable one. Commonly know as an sop template, this type of template will save you a significant amount of time and effort.
Are you searching for a specific manual based around what your business does? For example, if you own a hotel – hotel standard operating procedures? Maybe you own a manufacturing business and therefore require a manufacturing standard operating procedure template.
Whatever type of business you operate, finding a SOP manual specific for your business is likely to be quite expensive if it is any good, or just not suitable for your specific organization.
This means you need to create your own from scratch and we all know how much effort that takes. It is a huge task. An alternative is to find a good quality generic sop template and customize it to suit your business.
Standard Operating Procedures make a dramatic difference to the performance of your business, company, organization or club. SOP's as they are commonly know are instruction manuals for team members that are learning or even experienced team members that need reminding of how to perform tasks accurately.
If you are looking for a free Template for a Standard Operating Procedure then keep on reading as we look into your options and also provide a free template for download. This is a basic SOP but it will at least get you underway in creating your SOP'S.
So let's get into it.
---
Step by Step Tasks – Is this the Best Format?
A simple process to follow
You definitely want people to be using these step by step tasks. For example, think of a pilot landing a plane and you are sitting in the back. You would be hoping the pilot is following the step by step standard operating procedure to get that rubber onto the tarmac without bending anything?
You can imagine it is a list of items that need to be included in making sure the landing gear is down prior to touchdown.
Check out a simple step by step procedure below. This is a really simple one created in MS Word. You can create these in a matter of minutes if you use our templates.
Positive Influence on Your Business
You could have hundreds or even thousands of Standard Operating Procedures in your business. It is a document that assist you in operating your business and therefore needs to have all relevant information within it.
If it is basic and simple, it would likely not meet the requirements of delivering service to a high standard. We believe it should be detailed enough for your team to deliver their work to a high standard.
---
Free or not so Free?
Difficult to Find Free Relevant Information
Finding a Free Standard Operating Procedure Template that is suitable for your business is going to be even harder. All we can suggest is to find a generic manual and tailor it to suit your business.
A lot of the free templates online are simple and basic and would need a significant amount of work to make them suitable for your business. Sometimes it could be easier to just start from scratch.
---
5 Reasons SOP's are Great for Your Organization
These types of documents really do make a difference.
---
System Manuals can require a lot of work
Heavy Customization Required
These types of templates and documents take a long time to develop. If you purchase a template, you want to be sure it is actually going to be useful for your organization or at least create a great foundation to get you started. Either way you are likely to have to customize it to suit your specific team and processes.
Comprehensive and Complex
Generally, system manuals are very comprehensive. Typically a Standard Operating Procedure Manual is a very detailed document. It is unlikely you are going to find the exact type of document for your business if you are looking for a free standard operating procedure template.
---
What types of Businesses Use Standard Operating Procedures?
Systems Bring Success
All successful organizations have systems and procedures. A lot of the most successful organizations have very strict procedures and deliver their products and services in accordance with these systems each and every time.
If you have been an employee in a large corporation, you may have had exposure to this. Delivering a product or service to a set quality every time is crucial to the performance of the business.
---
What is Available Online?
Free Standard Operating Procedure Template Online Examples
Let's take a look online to see what we can find and see if there are any useful options available.
A simple search for a free standard operating procedure template in Google brings up a range of results. At time of writing, this post, there were 335 Million results in Google. What a massive amount of information!
Obviously there is going to be a lot of irrelevant information. A number of the top spots are dictated by some of the well know template websites. Let's take a closer look at those and see if we can find a suitable option for finding a free SOP template.
---
Organic Search Results
Good Quality Online Options
There are some good quality options available and some require a lot of customization and others will require less. It will be difficult to find something specific to your business particularly for free.
Option 1 – Digital Documents Direct
Our free standard operating procedure manual template is a snapshot of what our paid version includes. This template is only a basic version, however you may find it useful for your small business. Click the button to download our free sample.
Check out our paid version if you require something much more detailed. It is full of standard operating procedures and includes all the detail which you can easily customize to suit your organization.
Option 2 – Smartsheet
The first website that pops up is Smart Sheet. This website has a lot of templates, however let's look a bit closer at the detail.
This page above at smartsheet has quite a few templates to choose from and they are broken down into different industries. The templates look to be customized and suited to the task. There are a number to choose from including a Help Desk, Hotel Guest Luggage Handling, Laboratory and Warehouse Standard Operating Procedure Templates.
So if your business is any of these then you are likely to find something of value there. However, note that there isn't a ton of specific detail in each template. You will have to put some effort in to make it suitable for your particular situation.
Also note – smartsheet is not completely free, although you can try their service for free and then pay if you want to continue.
Click the image above or go to their homepage here: SmartSheet
Option 3 – Word Templates Online
OK, the next one is Word Templates Online. This website has a lot of templates that might be suitable for your organization. There are also plenty of links to check out.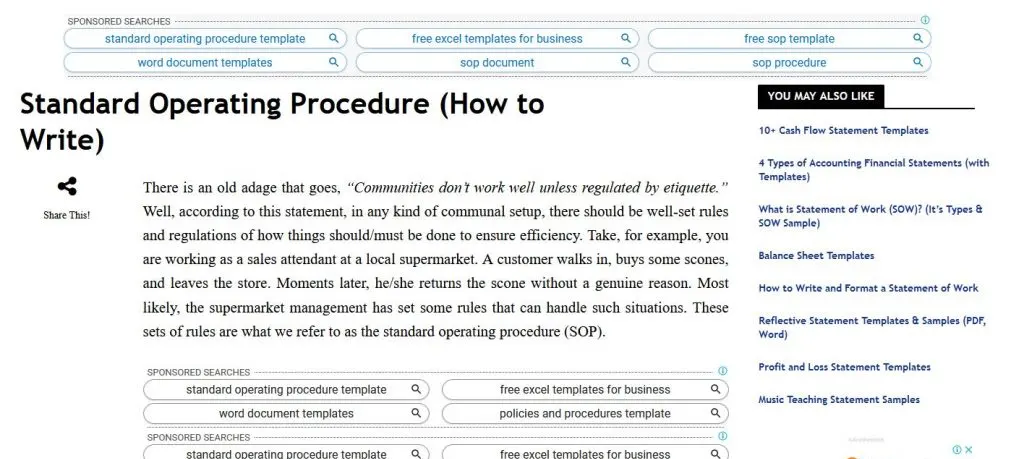 If you scroll down a bit there is a definition of a Standard Operating Procedure and also instructions on How to Write a Standard Operating Procedure which is great.
Click the image above or go to their homepage here: Word Templates Online
Option 4 – Process Street
Taking a look at the next option it is Process St. This website shows a lot of detail about how to create SOP's. There is a ton of information and also some good videos that are going to go a long way in helping you create your Standard Operating Procedures.
Process Street also have a list of customized templates for particular industries, so this is also worth checking out. There are numerous free Standard Operating Procedure Templates available if you hunt through the text, although they are fairly generic.
Process Street is not free, however there are plenty of free resources on their site with regard to Standard Operating Procedure Templates that are worth checking out. You should be able to find some free generic templates.
Click the image above or go to their homepage here: Process Street
Option 5 – Template.net
Template.net has a bunch of templates available for consideration.
There are a ton of SOP templates to consider. Some of them are blank and some of them are from other organizations. It might take sometime to wade through all the results, however you might be able to find something useful in there. All of these templates are free.
---
Different Types of Standard Operating Procedures
There are obviously many different types of SOP Manuals across many industries. For example, lets take a look at this example which below which explains the purpose of SOPs from aircraft manufacturers.
You can see that in this example, SOP are instruction tools used to communicate how to operate the aircraft or abide by regulations.
---
Standard Operating Checklists
Checklists Mean Quality
If you don't have checklists in your business you need to get them ASAP. It might seem pretty obvious, however this simple tool makes a massive difference to your whole organization. It is really the only way to ensure quality through others which is the key to building your business.
Quality is built around checklists. It's not really rocket science. If you want high standards for your business you need your quality control to have a benchmark.
Benchmarks are your checklists.
Create a checklist standard operating procedure template to use again and again.
Checklists should be simple, easy to follow and step by step. Combine a checklist with a procedure and your quality system is off to a good start.
Checklist Template Free Download
We use a lot of checklists in our business. They have become very useful to ensure complex issues are not forgotten and quality is delivered.
Team members may not like using them at first, however once they get used to them, the difference is dramatic. All of a sudden things will get done correctly. So if you have a quality control issue in your business, then you should consider checklists immediately.
Check out a simple checklist below. All it does is list out the tasks required in order. You as the operator of the business should have an intimate knowledge of the process required or at least a detailed understanding though other team members so you can assist them in creating the right checklists that ensure perfect quality in your organization.
If you want to see what a checklist in Word format then we have created a link for you below to download it. It's just a simple example of a checklist you could have for any task in your organization. However, feel free to use it as a base template if you need to.
---
What about Innovation?
SOP checklists are great for ensuring your core business is delivered each and every time to a certain standard. However, what about innovation, creativity and principles that may not necessarily have a tick box to complete?
It will depend on the type of business you have. So let's firstly take a look at that and determine what your business is and what you are trying to achieve with it. It makes a difference on how you set your system up.
What type of business do you have?
A Simple Business
These types of businesses include small organizations such as a burger bar, coffee shop, takeaway or retail goods outlet. They are pretty simple. Get product from the wholesaler and sell it at a higher margin. There is not much complexity going on here.
This applies somewhat to a manufacturing business as well. Manufacturing may not be as simple, however portions of the manufacturing process can be relatively simple. You might require a manufacturing standard operating procedure template that you could use over and over again.
Your business might have a set product, set market and set deliverables. If you want an autonomous business, then this is what you should aim for. You then just need to keep on top of industry trends and the marketplace and ensure the demand doesn't change – and if it does, then adapt.
A Complex Business
However, what if you have a business that is more complex? You are likely to need to innovate. Design, invent, create and deliver. A much more complex arrangement. How do you drive innovation through systems for these types of businesses?
Innovation can be a little more difficult to rollout throughout your organization. It comes back to culture, your team, their experience, their drive, their beliefs and how much risk they take. Also, management and leadership from the top influences everything.
If you cannot setup a system that drives innovation, then your business will stay where it is.
Build Your System Around Your Business Type
The question is – what type of business do you have and what type of business do you want?
A business that just produces income for you without you being involved or a complex business that you are fully immersed in, to change the world?
They are 2 different types and should be setup differently. A business that just produces income autonomously is likely to be a more simple business that has a core deliverable and focuses on this only.
A complex business will have challenges with innovation and creativity and therefore is likely to be the type of business where the operator or owner is fully immersed in the business. Thrilling stuff.
---
Sections of a Comprehensive Standard Operating Procedure Manual
Reduce Overwhelming Complexity
Business can be a complex beast. Even simple business can be overwhelming. Get online and you will be swamped with the massive amount of information on how to operate or structure your business. A lot of it is fluff.
Let's get real though. Basically – you have a product or service and you sell it at a higher price than it takes to produce to make a profit. That's it really.
However, what a 5 pillars of a business that should be at least the minimum sections of your standard operating procedure manual template? Let's investigate those a bit further.
6 Pillars or Sections for Your Standard Operating Procedure Manual
Pillar 1
Product or Service
Pillar 2
Administration
Pillar 3
Operations
Pillar 4
Human Resources
Pillar 5
Finance
Pillar 6
Marketing
They are 6 solid pillars you can operate your business around. Get those sections into your Standard Operating Procedure Manual and you are well on your way to creating a solid business.
Let's take a look at these sections in detail.
Pillar 1 – The Organization and it's Product or Service
Section Contents
You need to be clear about this one. What is your product or service? Is there demand for your product or service? This section of your SOPMT should be descriptive and outline all the products or services you sell.
It can also include all the general things such as company details and organization structure. Fun stuff!
Required Documentation
There is probably not a great deal of procedures and checklists required for this section. It in more explanatory and informative for your team.
Pillar 2 – Administration
Section Contents
A major component of any business, this part of your business assists operations to help the organization operate smoothly.
Required Documentation
Checklists and procedures required for this section.
Pillar 3 – Operations
Section Contents
This one can be complex. How to deliver your product or service and who is in charge of what. Get this large section of your SOPMT sorted and your business will be well on it's way to delivering quality to your customers.
Required Documentation
Checklists and procedures required for this section. Checklists for quality control and procedures for how to deliver.
Pillar 4 – Human Resources
Section Contents
People are a major part of most businesses and therefore need their own section. This section should be about how to manage the human side of your organization. Easier said than done.
Required Documentation
Policies required for this section including expected behavior, entitlements and conflict resolution strategies.
Pillar 5 – Finance
Section Contents
Tax, profit, turnover, forecasting and all those great number games happen in this section. Don't forget your professional advice from your accountant.
Required Documentation
Checklists and procedures required for this section also. Have tax requirements been met? Profit and loss reporting and a range of other reporting to provide you with the information you need to make informed decisions.
Pillar 6 – Marketing
Section Contents
Marketing is an all important section and includes sales, customer fulfillment, satisfaction and delivery of what we say we are going to do. Not always easy when those operations guys want to do it their way!
Required Documentation
Finally, checklists about what needs to be done in terms of marketing, quality control and message control and procedures on how to deliver the marketing through all the relevant channels such as media, social media, website and other communication methods.
So there are 5 basic pillars to start your SOPMT off with. These pillars could be elaborated on further depending on your business.
---
Using MS Word to Create a Standard Operating Procedure Template
A very simple way to create your SOP Manual is to use MS Word. You could also create your standard operating procedure manual with Google docs. Both ways are very fast and cost effective ways to get started. However, if you intend to create something substantial, you will need to consider it's growth.
If you have just started your business then the cheapest way to create a manual is to get 5 MS Word templates and split them up into 5 sections of your business. You could start with something similar to the above. General, Operations, Marketing, Human Resources and Finance.
This will allow you to establish a decent manual reasonably quickly. Once you get your files set up you can add the relevant information and then go ahead and add all the SOP's required for each section.
Team members may not need to use a section of the manual that is not relevant to them, so it makes sense to split it up in accordance with the correct department.
As your business grows you can add to each file and then go ahead and find a system that may allow you to grow even further as you move away from MS Word.
---
What A Basic MS Word SOP Might Look Like
OK, so we all know MS Word is pretty simple and a good tool to create documents with. If you are on a budget, then it is a good way to create an Standard Operating Procedure Template easily and best of all fast.
You can roll an SOP out to your team in minutes once you create a Standard Operating Procedure Template. You don't have to worry about logons, memberships or whatever else that will slow you down. You can get the critical content into the MS Word doc and send it all in a matter of minutes.
This is the advantage of using something like MS Word to create your SOP's. Flexible, easy to use, fast and communicates the content well enough. So check out the really simple example below. This is just created in MS Word and can be a standard template that you could use if your business is relatively simple and not too complex.
Don't Have Time for all the Images?
OK, maybe you simply don't have time to add all the images. It is a lot of work!
If you are short on time, just use a step by step template. It is really fast to set up and you can be finished in a matter of minutes.
You could also give it to your team and ask them to fill in the blanks or ask for their opinion about what the correct steps are.
Check out this one below. A simple step by step procedure task list in MS Word is going to make a big difference for sure. No more repeating yourself. OK, you might still have to repeat yourself but maybe not 100 times a day.
Click the image if you want to read more about Digital Documents Directs Standard Operating Procedure Manual Template.
---
Creating Your Standard Operating Procedure
So, the easiest way to create a Standard Operating Procedure is to use MS Word. Simple to do and easy to set up and virtually free. No doubt if your business becomes complex then you will need something better to grasp all that information. Otherwise you will be wading in documents.
Really it isn't anything more than a checklist is it? Start here and finish there and make sure you do all steps in between. (Landing gear is important).
The Easiest Way to Create an SOP
Steps to Successful SOP's
The fastest and easiest way to create an SOP is to document it step by step. Just do it in MS Word. You will be done in 5 minutes. Forget the fancy graphics and all the flow chart explanations. How are you get going to possibly keep updating those things for the whole of your business?
Procedures change all the time. They are constantly tweaked.
Maybe once you have your system outlined and documented you can start thinking about graphics. However, imagine trying to do this for the your whole business from day 1?
Just document the steps.
Step 1
Step 2
Step 3
etc.
Surely this is the fastest and easiest way to start a SOP and get it out to your team to review, amend and implement don't you think?
You might find it difficult to read or follow, unless it has graphics. Possibly it is.
However, getting the process right is the first priority, so focus on that. Getting the steps right is critical. Errors will effect customers and potentially the perception of your business. So it makes sense to get the steps correct first so the quality of output leaving your business is kept high.
---
Download Your Free Template
OK in this spot you can download your free MS Word template and get things going. It's basic but will help you get underway fast.
Remember, you may come across a massively complicated and technical way to create SOP's online by reading other websites. However, is that really how it should be? SOP's should be EASY TO USE, EASY TO CREATE and ACCURATE.
Anything else is just a nightmare for anyone but the person who created them.
Download a Free Template for Standard Operating Procedure Template Here
---
How Can You Improve Your Business Fast for Not Much?
If you have a small business, you will already know as business owner it is a lot of work. There are some very important things you should put in place as fast as you can.
You probably don't need that business coach. They can be expensive and most of the time haven't even owned a business. How can you accept advice from someone that hasn't done it before? I would take their advice with a grain of salt.
Not saying they wouldn't have some good things amongst the other stuff, but if a business coach has never owned a business, then chances are they are winging it and relying on your cash coming in.
Here are a few things you should be doing as small business owner for success.
Never take any Customer for Granted
Customers provide your income. If you take them for granted, one day you will regret it. It could be when the economy tanks or something else happens. If you have a paying customer regardless of the size of their business – treat them well. It will pay off in the long term and I suspect you are in this for the long-term, not just a fast buck.
Treat your Staff Really Well
If you are not a people person, you might find it hard to treat your staff with the respect they deserve. If so, take the time to sort this out yourself. Talk with someone about it or do whatever it takes. Treat your team with respect and ensure you do everything you can to help them. It will pay off for you in the long term.
Document Your Processes Fast
As soon as you can, start writing down every single task in your business. It doesn't matter if you are a coffee shop of an engineering firm. Doing this will start to free you up from the everyday tasks that need to be completed by your team. If you haven't started yet – you are already behind. Get into it and use a template today.
Use Checklists
Create checklists and make sure you ask your team to use them. Quality is everything in business. You need to deliver to every single customer to a high as standard as possible. You and your team will make mistakes. However, you are aiming to get the mistakes low and the service and quality high. Checklists help to do this fast.
Create a System ASAP
Use the above items to create your system ASAP. You need to do this quickly, accurately and efficiently. A logical system will ensure your business output is performed to a higher standard, mistakes are reduced, safety is paramount and team morale and culture is kept to acceptable standards.
Focus on your EXISTING customers
Forget trying to be a world conquering business. It is unlikely to happen. Thinking your business is going to be a massive corporate when you are just a small business can make you forget about your existing customers. You keep chasing new customers and forget that your existing customers are the most important.
Your existing customers are more important than trying to get new customers. Keep existing customers extremely happy and you won't need to keep finding new customers. Remember, you are a small business, not a global corporate behemoth.
Deliver over and above what you say you will and you will keep your customers happy and they will return. Focus on quality, efficiency and training your team.
Enjoy What you Do
If you don't – it shows. Grumpy, disappointed, angry or frustrated? All these emotions flow onto your team and customers. Check them at the door the moment you walk in and put them aside.
If you aren't enjoying it, take some time off. Do something else or work for someone else until you can face it again with a positive attitude. This makes all the difference for any small business.
Charge the Right Price
Nothing will kill your small business faster than competing on price. Just refuse to do it. If you get really desperate, then focus on what makes you different. Let your competitors scrape the bottom of the barrel if they want to – but don't participate. If you don't make a profit after taking home a decent salary – then why are you doing it? The joy will run out eventually and then you will be broke, stressed and grumpy.
What Makes Your Business Unique?
For most small businesses, the only thing that makes your business unique is:
YOU !
That means you should use 'you' to make a difference in your business. Usually, your personality and who you are is the difference between you and your competitors – so you better focus on 'you', fix 'you' if you need to, make 'you' better and identify the part of 'you' that is different.
---
Standard Operating Procedures a Waste of Time?
Do you have SOP's or Standard Operating Procedures and no one in your team use them? Do they even know where they are?
If you operate a small business, you the business owner needs to get behind the SOP's and embrace them. Sound like fun?
A great way to do this is get your team to create them with you. Have a small session and brainstorm the best way to create instructions and step by step procedures.
Then get your team to help you add the detail in quiet times or moments where you are not working flat out. This will make a big difference.
A massive benefit is that if one of your team members leaves, they won't take everything in their head with them because you will have documented it right?
Let's face it. People will come and go, and what you must have as business operator is a place that shows others how to complete their role. A system manual.
---
Summary
So there are a few items to consider if you are looking for a Standard Operating Procedure Template. Plenty of things to consider there and also don't forget to check out Digital Documents Direct Standard Operating Procedure Template if you need something more detailed.
If you have a small or medium business and are struggling or if you have just started your business we highly recommend you create a Standard Operating Procedure Template and build your system manuals now using these templates.
Put everything else aside for at least a day or two until you can get your system setup in heading in the right direction. This is a massive task however it will add a bucket load of value to your business.
Think about it This Way
Think about it this way. If you are wanting to sell your business in the future and you are not involved in the day to day operations, you potentially have a very valuable business.
However, if you are right in there everyday pulling all the strings and still operating the organization, it won't be such an attractive buy for anyone, if at all.
This is all underpinned by your Operating Procedures. These things are not just there to make something look nice or gather dust on the shelf. They are there because they are the foundation of your organization and add significant value.
Get this right and you will either have a very good business that supports a lot of people and/or a very sell-able business.
Get started today! Don't forget to check out our Standard Operating Procedure Template!
---
Frequently Asked Questions
What is a Standard Operating Procedure?
A Standard Operating Procedure (SOP) is a documented set of step-by-step instructions or guidelines that outline how a particular task or process should be performed within an organization or in a specific context.
What is a Standard Operating Procedure Template?
A Standard Operating Procedure (SOP) template is a pre-designed document or format that serves as a framework for creating individual SOPs within an organization.
Who uses Standard Operating Procedures?
Standard Operating Procedures (SOPs) are used by a wide range of organizations and individuals in various sectors.
Do I need Standard Operating Procedures for my Business?
Whether or not you need Standard Operating Procedures (SOPs) for your business depends on several factors, including the nature of your business, its size, complexity, industry regulations, and your specific goals.
How long does it take to create SOP's?
The time it takes to create Standard Operating Procedures (SOPs) can vary widely depending on several factors such as the complexity of the process required.
Are standard operating procedures mandatory?
Standard Operating Procedures (SOPs) are not inherently mandatory from a legal or regulatory standpoint in all cases. Whether SOPs are mandatory depends on various factors, including your industry, the specific processes involved, and any relevant regulations or standards.
What happens if there are no standard operating procedures?
The absence of Standard Operating Procedures (SOPs) in an organization can lead to several potential consequences and challenges such as things like Inefficiency, Inconsistent Quality and Safety Risks.
How can I create a Standard Operating Procedure Template?
Use a simple program such as MSWord to create your template.
---
In Conclusion
Standard Operating Procedures are an extremely important part of business. Using a Standard Operating Procedure Template will save you time, money and effort and also standardize your process manuals.
Important for small business
If you run a small or medium scale business and don't have any you should get them immediately. In other words, they are going to help your business run much more smoothly. It is also likely to reduce your stress level.
Create procedures carefully
Creating procedures should be carefully considered. Just whacking a list of things on a sheet is likely to not do the job well enough. You need to think about it a bit more and lay them out in a manner that makes them easy to read and use.
They need to be relevant
Remember, they need to be relevant. Irrelevant procedures will simply not get used. People will ignore them and do their own thing, so it is important they are accurate and relevant.
Let your team create them
You can create your procedures with your team. In fact, they are likely to have a very good understanding of the process. However, you will need to check the procedures and ensure they are suitable, accurate and relevant.
---
Share Your Thoughts
Comments are open below. In your experience, what is the best way to create a standard operating procedure and ensure it is useful to your business?
Have you created a Standard Operating Procedure Template and do you use this to create your procedures daily?
What is the easiest way you have found to create a Standard Operating Procedure Template?
Leave a comment below.